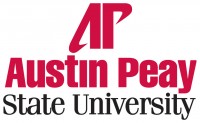 Clarksville, TN – For Staff Sgt. Chris Minor and his wife Elvira, the celebration of graduating together December 14th from Austin Peay State University will not occur precisely as they walk across the stage to receive their degrees.
Rather, the moment of satisfaction will come when their children understand the value of a college education.
"We know that we have accomplished a goal together," Chris Minor said. "The real celebration will be when we are able to use our accomplishments to show our kids that education is important and see them take pride in their future educational goals."
Chris Minor, who is assigned to the 160th Special Operations Aviation Regiment at Fort Campbell, KY, will receive a Bachelor of Professional Studies degree, and his wife Elvira will receive a Bachelor of Science in psychology.
Both will be among the 686 degree candidates APSU will send off during Fall Commencement dual ceremonies in the Dunn Center. Chris Minor will graduate at 10:00am with the School of Technology and Public Management, while Elvira Minor will participate in the 2:00pm ceremony with the College of Behavioral and Health Sciences.
He also will be presented with an APSU military coin and military academic cords during the Military and Veteran Graduate Recognition Ceremony on December 12th. His wife, who was inducted into the Psi Chi international psychology honor society earlier this year, will graduate with honors at commencement.
The couple started taking classes at APSU around the same time, and during each step of the way, they have supported each other.
"Over many years, a handful of military schools, deployments and training, not to mention four kids later, the determination and perseverance has brought us to this day that we will be walking across the stage graduating together," Chris Minor said. "It has been a challenge and long journey to earn our degrees. If you keep your heart and mind focused on your goals, then you can achieve anything."
He plans to continue his military service, possibly working to become an Army officer, and later pursue a master's degree. His wife, an applied behavior analysis therapist with the Autism Foundation of Tennessee, said she plans to work in the neuroscience field and "dedicate my time and energy into finding a cure for degenerative brain disease" and eventually pursue a doctoral degree in neuropsychology.