APSU Sports: Austin Peay Baseball

Irving, TX – With opening day still 64 days away, junior second baseman Jordan Hankins has become the first Austin Peay State University baseball player to earn Preseason All-America honors from the National Collegiate Baseball Writers Association.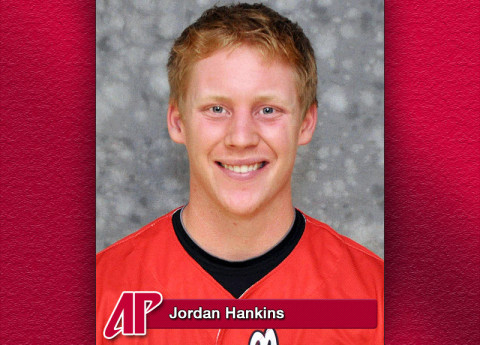 Hankins, of Wentzville, MO, was named to the NCBWA Preseason Third Team All-America. He earned the honor behind Campbell senior Michael Felton (1st Team) and Rice senior Christian Stringer.
The honor follows a busy and successful sophomore campaign for Hankins. He played in all 64 games for the Govs last season and was second on the team in average (.336), home runs (10) and runs batted in (66). More impressively, he recorded only 16 strikeouts in 250 at-bats, a ratio of one strikeout every 15.6 at-bats that ranked 16th among Division I players.
Hankins was a first-team All-OVC selection, an OVC All-Tournament pick and earned All-Region honors at the NCAA Tournament's Eugene Regional. He also was a second-team All-South Region pick by the American Baseball Coaches Association.
Capping his sophomore campaign, Hankins was selected to play with USA Baseball's National Collegiate Team and traveled with that team for a series in Cuba and a tournament in The Netherlands.
Hankins and the Govs open their 2013 campaign with a Friday, February 15th contest against Iowa that is the first of a three-game series against the Big 10 foe.