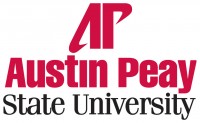 Clarksville, TN – Standing on the long front porch, Austin Peay State University President Tim Hall peeked through a window to the inside of a house that now belongs to the APSU Foundation.
On December 11th, Heritage Bank President Keith Bennett presented Hall with the deed to 1220 Madison Street, located across the street from McReynolds-Nave and Larson Funeral Home in the historic district.
"This is one of the greatest things I have seen," Hall said after receiving the paperwork from Bennett.
Built in 1910, the two-story home was once the site of the Clarksville Montessori School. Heritage Bank in Clarksville has owned the property until now.
The house sits on 1.61 acres and has 4,835 square feet of total living area, according to the appraisal report.
Steve Shaw, director of corporate relations at APSU, said the University will list the property on the housing market immediately. Proceeds from the sale will go toward the Governors Stadium renovation project.
"Austin Peay State University is very appreciative for this gift from Heritage Bank," Shaw said. "Heritage Bank has worked very hard to partner with us and make this gift a reality."