Written by Sgt. Duncan Brennan
101st Combat Aviation Brigade
Camp Marmal, Afghanistan – For many, the idea of taking a math class seems something more out of a nightmare or a torture devised by an educational system that has a vendetta against them.
For soldiers in 5th Battalion, 158th Aviation, 12th Combat Aviation Brigade, Task Force Ready, it's not a nightmare, it's an opportunity.
Spc. Vineeth Amaram, D Company, 5-158, TF Ready production control database administrator, a native of Hyderabad, India, the opportunity is slightly different. With two years in the Army and on his first deployment, he is the instructor for the math 103 offered at Camp Marmal, Balkh Province, Afghanistan.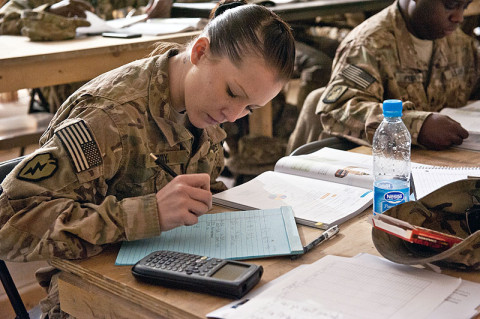 Armed with a bachelors degree in mechanical engineering from Jawaharlal Nehru Technological University, and a masters degree in industrial management from the University of Central Missouri, Amaram is doing his best to help educate his fellow soldiers.
"This class is every day math," said Amaram. "We start with basic addition and we go through some basic algebra and some advanced stuff like linear and quadratic equations. The class also covers basic banking and taxation."
"I think it's good he's teaching this class," said Warrant Officer 1 Notoane Russell, HHC 4th Battalion, 12th CAB stamis automation support maintenance office officer in charge, a native of Peoria, IL. "Hopefully he encourages other soldiers to better themselves on their down time."
Amaram stumbled into teaching after he was encouraged to find ways to improve his skill set by his supervisor. His chain of command had faith in Amaram that he could not only be a teacher, but maintain his proficiency at work.
Teaching is one of the best ways to utilize his skills," said Sgt. 1st Class Jeromy McGee, D 5-158, TF Ready production control noncommissioned officer in charge, a native of Phoenix. "I've worked with Amaram for a little over a year, and I've worked closely with him for about seven months. There has been no change in his work performance."
Math is one of those school subjects that gets avoided like the plague. It is not always the easiest subject to learn for many who are faced with taking the class, but the circumstances and the instructor can make all the difference.
"I wanted to retake the class because I got a C the first time I took it," said Notoane. "I wasn't too focused on grad school. I was part of Amaram's first class and I got an A."
For a junior soldier to teach can present issues. In a deployed environment, service members cannot suspend the rank structure, even for teacher-student interactions
"Everyone knows about him teaching," said McGee. "It's pretty cool to allow him to teach other soldiers. His students respect him enough to go from being his superior to his student. It's pretty neat to watch. The soldiers that take the class all speak highly of their teacher."
In the end, it is all about getting things done. Amaram has proven that he can make things happen both inside and outside of the classroom.
"Amaram is a prime example of a diamond in the rough," said Notoane. "He's a great instructor and his supervisor speaks highly of him. He's a good guy."
Photo Gallery