APSU Sports: Austin Peay Men's Basketball

Clarksville, TN – Lipscomb finished the game with a 15-0 run, Tuesday night, and stunned Austin Peay State University, 87-84, in a non-conference basketball game played in Dave Aaron Arena.
The loss was the Govs' third straight as APSU slips to 4-7 on the season. Lipscomb, meanwhile scrambled back to the .500 mark at 5-5.
When Anthony Campbell hit a pair of free throws with 3:09 left, APSU owned an 84-72 lead and seemingly had victory within its reach. But from there the Govs came unraveled as Lipscomb refused to back down.
First it was a traditional three-point play by the Bisons' Martin Smith. Then the Govs began to be beset by their season-long Achilles heel–turnovers. Starting recent walk-on Jeremy Purvis at point guard, the Govs had only nine turnovers in the game's first 37 minutes. They had four turnovers in the final three.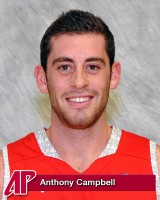 The first turnover, when APSU was unable to get the ball inbounds against the press, led to two Lipscomb free throws.
The second turnover came after the Govs had to call timeout after again having trouble inbounding the ball. This time Purvis had his only turnover when he could not control the inbounds pass.  Stephen Hurt, the burly 6-10, 285-pound center, dunked it to cut APSU's lead to five, 84-79.
Then it was two missed APSU free throws, and then after a Lipscomb miss, the Govs missed on a layup. Lipscomb then scored on a fast-break layup to cut the deficit to three, 84-81.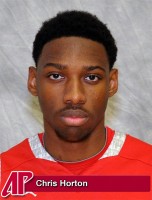 Another Govs' turnover led to a Martin Smith layup and now the game was 84-83 with still 1:15 left. Purvis missed a running one-hander in the lane. Freshman center Chris Horton, who had been sitting much of the game with foul trouble, attempted to jam it home. He came up short and fell to the floor with the basketball-another turnover.
Lipscomb responded with a Malcom Smith layup with 1:02 remaining for a 85-84 lead.
The Govs then missed on another layup and Will Triggs was fouled on the rebound. He proceeded to miss both free throws. APSU again grabbed the rebound by Anthony Campbell was unable to convert.
This time Lipscomb grabbed the rebound with 36 seconds left but in the ensuing offensive possession it was the Bisons committing the turnover. Purvis was fouled again and again was unable to convert either free throw.
Lipscomb was unable to convert the miss into a Martin Smith dunk with six seconds left. APSU was unable to get off a potential tying shot.
Hurt was dominated for Lipscomb, scoring 23 points and grabbing 18 rebounds-allowing the visitors to own a 43-34 board domination. Martin Smith added 13 points as the Bisons put five players in double figures.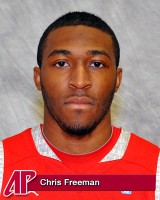 Campbell led APSU with a career-high 25 points while Chris Freeman added 15-also a career high. Travis Betran added 14 points.
Horton had 12 points, six rebounds and six blocked shots in only 14 foul-plagued minutes.
Purvis, playing his first Division I college game, finished with five assists. The 5-10 local product (Northeast High School) played his previous two seasons at Jackson State.
The Govs finished the game 22 of 35 (62.9 percent) from the free-throw line, missing their final six. Lipscomb, only a 62 percent free-throw shooting team entering the game, made 21 of 28 (75 percent).
Postgame Notes
The 87-84 lost to Lipscomb increases the Govs losing streak to three games.
Jeremy Purvis made his first start at the Division I level, racking up five assists and a blocked shot. Purvis joined the team as a walk-on a little more than two weeks ago. The local product (Northeast HS) played the previous two years at Jackson State.
Senior Anthony Campbell scored a career-high 25 points. He hit three three-pointers to give him 139 for his career, tying Anthony Davis for ninth in career made three-pointers.
Five Govs players (Campbell, Chris Freeman, Travis Betran, Will Triggs and Chris Horton) scored in double figures for the Govs.
Freeman led the Govs for the fourth time this season and fifth in his career with seven rebounds while also recording a career-high 15 points. He also had a career-high three blocks.
Austin Peay's 21 fouls was a team season high.
The Governors tied a season high with 10 blocked shots.
Horton recorded a team and career high with 6 blocked shots. He has at least two blocked shots in 10 of 11 games this season.
With the loss, Austin Peay is now 40-30 all-time vs Lipscomb — including losing the last four meetings. Austin Peay also drops to 73-69 all-time vs current teams in the Atlantic Sun Conference.
Betran has made at least three three-pointers in the last eight games.
Stephen Hurt's 18 rebounds were the most allowed by the Govs to an individual since Southeast Missouri's Leon Powell had 18 boards, January 26th, 2012.
Next Game
Austin Peay Men's Basketball travels to Normal, IL Saturday, December 22nd to face the Illinois State Redbirds. Tip off is at 2:00pm.