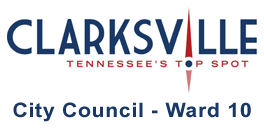 Clarksville, TN – We have had some issues within the ward with crime, speeding, and traffic. The Rudolph Town neighborhood has had some vehicle break-ins a couple of weeks ago. In response to citizen concerns, I asked our Clarksville police precinct to run any extra patrols possible through the neighborhood.
As a reminder during this holiday season, whether at home or out shopping, do not leave valuable items in sight within your vehicle and lock it up when it is parked. Also, for goodness sake do not leave a vehicle running while you pop into the "quickie mart" for that loaf of bread or milk.
If you have not noticed, the Clarksville Police Department has been working the Hwy 76-Martin Luther King Jr. Parkway and Old Farmers Road area pretty hard. It has been rare for me not to see the blue lights flashing as another speeder has been caught in these areas.
Due to concerns about speeding in the Savannah West neighborhoods, I have asked our CPD precinct to expand radar checks to these areas at various times during the week and weekend. Drivers need to slow down and pay attention to speed limits.
With Christmas just days away, new bikes, skateboards and other wheeled toys may be out on the street. BE ALERT!
I have noted several letters to the newspaper expressing concern about what needs to be done at east bound Exit 11. As readers of my updates know, CPD will try to provide officers to work ramp traffic when possible. I have again been in recent communication with CPD about the traffic issues and they will do all they can to help the situation.
However, construction will take several more months and the asphalt plants will shut down for the winter very shortly, from what I have been told. So drivers need to be patient and be prepared that backups before the ramp exit will occur.
I was able to attend the most recent swearing-in of new police officers. With that action, the CPD was at full-authorized strength of 273 officers for the first time in the department's recent memory.  It will be short lived as a couple of officers are retiring this month.
Congratulations to Capt. Thornton, who is our precinct's commanding officer. On December 7th, 2012 he completed a grueling 10-week law enforcement course at Northwestern University's School of Police Staff and Command. Capt. Thornton is a prime example of the high quality people we have staffing our police and fire departments.
Madison Street/Hwy76-MLK Road Improvement Project Concept
My 12-year effort to get support for stoplights at the East bound Exit 11 ramp, Hwy76-MLK and Sango Road has had success with a completion date of next spring.  Another effort I have pushed to gain support and money for are improvements to Sango Road.  This effort is almost complete, awaiting final Tennessee Department of Transportation approval.  Hopefully, this project will start next spring.
In another project, for the past 4 years or so, I have been talking with residents and our Street Department engineers about traffic issues and problems around and near the Madison Street and Hwy76-MLK intersection.  The recent addition of turn lanes had helped, but more is needed. I was involved in meetings on this new project back in August.
In an article dated September 14th 2012, I gave you the first indication of this road project I wanted to pursue. In my October 1st, 2012 articlel, I spelled out in more detail my thoughts and ideas on an Access Road Concept in that area. Many of you liked the idea and have asked what is the latest, so here it is.
The Clarksville Street Department has drawn up some road designs based on the ideas and discussions we have had. I am VERY excited at the draft concept. The concept includes/overlays the changes that WILL occur when the state continues its widening and improvement of Madison to the McAdoo Creek Road area (the last I heard is that project may go to bid in a couple of months). This state road project will change some of the entrances to businesses in that area. Most residents and perhaps some of the businesses may not realize how much. Thus, my access road concept project may be very timely.
I had hoped to officially present the concept and drawings to the council Street Committee and Clarksville Mayor McMillan this past Monday (December 17th). However, the committee had members that could not make the meeting and Mayor McMillan was not available either. In talking with the Street Committee chairman, I will hopefully present the concept in the January meeting.
The committee and mayor are aware of the concept and the approach I hope to get approval and funding for. My goal is to push this as a funding priority in the next budget cycle. While I have the concept to study, I will not release any further details until I personally present this to the Street Committee and mayor. So keep your fingers crossed for success.
City Parking
As readers know I have had concerns about the need to have a consolidated parking plan that would hopefully address an approach to where, when, cost and method of payment, to name a few issues.  This week the Parking Authority took a major step by approving and releasing a parking plan that provides a tiered payment related to time and distance usage.
I had asked for a map copy to provide readers, but the PDF file is so large that many of you would not get it.  Mitch Robinson, Clarksville Parking Authority Chairman, has alerted me that the map has now been placed on the Parking Authority website.
Here is that address:
http://www.cityofclarksville.com/index.aspx?page=310
The map is color coded with a legend describing rates and times. The website also has other information as to what the Parking Authority wants to do.
A number of citizens and business people have talked to me about parking issues and the city's plans, both with the Authority and city leadership. I will meet with Mr. Robinson, after the holidays, to discuss some of the concerns and issues citizens have posed to me. If readers have thoughts or concerns and haven't expressed them to me, please email them to me within the next couple of weeks. I'll build a list and pass those on (without names or business identification of course) to the Authority.
Customs House Museum
For about five years, I was assigned to be the city council representative on the city's museum board.  During that time as a member, I was able to be involved in a number of planning, management and financial initiatives for improving our museum. I am very proud of the accomplishments the board, along with city council support, was able to accomplish.
These accomplishments include new designed and installed air conditioning, heating and humidity control systems built for museum requirements. This has enabled the museum to request high quality exhibitions that travel around our country and require a rigid interior environment for display. These HVAC improvements also opened additional floor space for new displays.
Improvements to museum access in terms of new sidewalks, streetlights and entryway have changed the appearance of the facility to be more open and inviting. New membership plans, rates and advertisement have increased visitations. The Old Post Office has been remodeled and returned to its initial interior glory of wooden floors and beautiful wooden arches and trim.
These improvements were done in the hope to spur more, bigger and better displays and exhibitions for the citizens of Clarksville and Montgomery County. It appears this long range planning and work is paying off. On December 13th, the museum was the recipient of a $500,000 gift from the Clarksville Jaycees Foundation.
This gift will be used to develop an interactive history exhibit about Clarksville called "Becoming Clarksville: Honoring Legacies of Leadership". It is scheduled to open in the fall of 2013.  Congratulations to the museum director, staff, and board for the hard work, long-term planning and dedication to excellence in gaining this gift.
A grateful thank you to the Clarksville Jaycees for their continued investment in the betterment of Clarksville.
Merry Christmas
Unless something major blows up, this will be the last email update until after Christmas. My family and I want to wish each of you a very Merry Christmas and Happy Holidays. Please be careful if you are traveling and take the extra time to arrive alive and safe.
Merry Christmas Y'All
---
Editor's Note: This article contains the view points of Councilman Bill Summers and may not represent the views of the rest of the City Council, the City of Clarksville or ClarksvilleOnline.