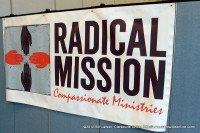 Clarksville TN – The 5th annual "Warm Souls Christmas Celebration" was held Monday at the Hilldale Baptist Church Activities Center on Old Farmers Road.
Over 1200 Clarksville area citizens were treated to live music, a free shopping spree, Christmas portraits, free haircuts, free gifts, and more, provided by Radical Mission Compassionate Ministries.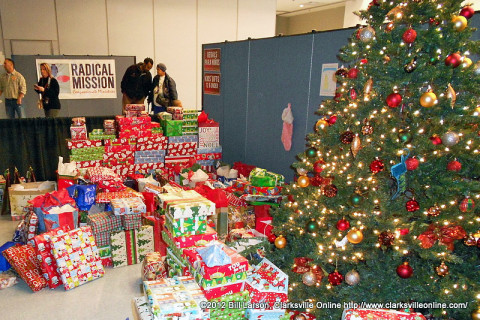 Pastor Brett Smith said it was shaping up to be the biggest turnout of needy families he has ever seen.
"Each year, more and more people are finding it difficult to provide a Christmas for their families.  Times are tough for a lot of our neighbors.  We try to help them with clothing, food, spiritual support and more.  We could see over 1200 people this year," said Smith.
Each person, many of them bussed to the event by the Clarksville Transit System, were treated to an experience that many of them would never have if it were not for the kindness of others.
Christmas presents, free haircuts, free Christmas portraits, tables and tables of free clothing, shoes, tools along with Toys for the children and bags filled with necessities were provided to everyone.
This was no easy task for the volunteers.  Stations were set up throughout the center, and each "guest" was provided with shopping bags, and instructions on where to shop.  The gymnasium was set up as a huge dining room, and the kitchen was jammed with volunteers preparing a traditional Christmas meal of turkey and dressing, mashed potatoes, green beans, rolls and tables of desserts.
Nobody left the event empty handed, or hungry.
Donations from area merchants make this event possible.  Better Homes and Gardens Real Estate, Bill Mace Homes, First Call, Kroger, Cash City 109, C&L Recycling, Hilldale Baptist Church, Total Package Events, City of Clarksville, CTS, Queen City Disposal, VA Mortgage Center, Community of Hope, F&M Bank, The Vaughn Team, and Volunteer Clarksville gave money and resources to make Christmas a special event for those less fortunate.
Other businesses who supported Warm Souls Christmas included, Bethel Free Will Baptist, Boys and Girls Scouts, Deannas Salon, Gold Star, Grace Church of the Nazarene, Great Clips, Hairway to Heaven, Heartland of Pentecost Church, Little Hero's Academy, Living Hope Baptist Church, Park Lane Church of the Nazarene, Montgomery Central Elementary School, Publix, Rudy's Diner, Tennessee Titans, and Trendsetters.
Thanks to Radical Mission Compassionate Ministries, hundreds of mothers and fathers, sons and daughters were shown the love and support of a caring community, and celebrated a Christmas celebration they thought they wouldn't have.
Photo Gallery