Clarksville, TN –


The B. R. Miller and Company, Inc. General Contractors received their Green Certification during a Green Ribbon Cutting Ceremony attended by the Montgomery County Mayor Carolyn Bowers at their offices on December 18th just a week before Christmas.
The ceremony celebrated their successful implementation of green initiatives and completion of the Clarksville-Montgomery County Green Certification Program.
Montgomery County Mayor Carolyn Bowers was on hand to participate in the ribbon-cutting, "It's great to see the large businesses and small mom-and-pop businesses taking part in this program. Overall, we can have a huge effect on our community and the energy that we save, saving the environment by encouraging recycling, which is a part of this."
Bowers continued,  "When businesses sign up for the Green Certification Program, they are required to participate in workshops every month for 3 months. They are then given a check off sheet which they take back to their business to show whether or not they're doing the things on that list. They cannot be green certified Intel they complete the entire checklist. Once they prove to Michelle Newell, the Director of the Clarksville, Montgomery County Green Certification Program they've completed all of that, then they granted, their Green Certification."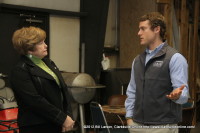 Mason Boisseau got involved with the Clarksville-Montgomery County Green Certification Program early on, "I attended the Mayors breakfast back with the program was first introduced, and I always thought it was a very good idea. I'm part of a younger generation that grew up with the ideas of protecting the environment, and practicing conservation. One of my best friends is actually involved in Franklin, Tennessee's Green Program, and so I spoke with them quite a bit about it. Business owners, are always looking for new ways to save money, and it doesn't hurt that it also helps the environment."
Among the initiatives undertaken by the BR Miller company were installing electronic thermostats; installation of a water cooler to discourage use of pre-bottled water; using occupancy sensors to cut down on electricity; recycling all items that can be recycled; inviting employees to bring in their recyclables from home; as well as encouraging employees to recycle construction materials from the job sites. Future goals include going as paperless as possible.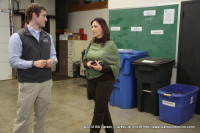 "The B. R. Miller and Company, Inc. General Contractors on the 24th business to be certified since the program began in March 2011," said Michelle Newell. "Each business goes through a series of workshops that are taught by environmental professionals and some of the people who work in the community like CDE, Storm Water Management. So that they understand how what they do affects the local environment. After they track what they are doing for a period of 6 months and make some changes in the area of electricity, pollution prevention, recycling, and so forth. Then if they can show that they had made those changes along with having a plan for future improvements, then they become Green Certified.  They get a decal that shows that their business is also certified, then we also send them the logo so they can use it in their marketing materials."
Newell stressed the importance of businesses becoming green certified, "Fort Campbell, specifically looks at green certification; because sustainability and conservation is very important to them. In the manufacturing industry. If you're not using green practices, then vendors will not use you, and the end provider will not use you. So you have to show that you're doing these things, it's a demand, and that's something that's becoming more prevalent, and soon the businesses have to do this  in order to be able to do business, especially in the larger industries. So why not be proactive and do those things before that becomes something that is required."
"If you want to get your company green certified, the resources are out there for you. It is just a matter of going out and doing it!" said Boisseau. "If you to put necessary time, effort and money into it, you will realize significant benefits doing so."
For business owners who are in getting your business green certified, you can click on the  Clarksville-Montgomery County Green Certification Program logo on the city or county website or contact Michelle Newell at 931.245.1867.
Photo Gallery