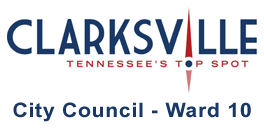 Clarksville, TN – I hope everyone had an enjoyable and safe start to the New Year. The city council cranked-up 2013 with two meetings on Thursday evening.
A special session was held to swear-in elected members and confirm the mayor's choice for pro tem. Then a couple of hours later, the usual first Thursday of the month regular voting session was conducted.
The regular session agenda was not large, but the meeting still managed to last close to two hours.
The new mayor pro tem is Councilman James Lewis. Congratulations to James. The only new face on the council is Valerie Guzman of Ward 5. Congratulations to Valerie and welcome aboard.
Ordinance 56
This was a rezoning of property at Twin Rivers and Nolen Road (request to go from R-1 residential to R-4 multiple family). Usually I do not comment on rezonings unless they are affecting our ward. However, I want to commend the residents of that area for showing up in force and speaking before the council about their concerns over expanding an apartment complex located on adjacent property.
This complex, called The Groves, is located on a hill overlooking the new bridge that crosses the Red River where Wilma Rudolph Boulevard becomes College Street.
The apartment development looks nice, but for the year or so that it has been open, it evidently has become a problem with traffic and lawlessness. Over 550 police calls were made to the complex. The problems appear to be spreading to the adjacent neighborhoods. The neighbors are extremely upset with the development and question why the city would consider expanding a complex with such issues.
I would agree and had gone on record with residents that I would not support further expansion until the owners and management of the complex established a better record of operating those apartments.  Given there was such an organized and concerned residential response to the rezoning, Councilwoman Jones had approached the requestor of the rezoning last week about potential alternatives to the R-4 request.  The requestor was not interested in changing the request.
At tonight's meeting the requestor (Reda Homebuilders) asked the council to postpone the rezoning request until next month so he could re-evaluate some issues/concerns. The large crowd in attendance for the purpose of fighting the rezoning may have been a factor.
When it came time to vote, a motion was made by a council member to postpone. This did not appear to make the large number of residents that had made time to come to the meeting happy. The motion to postpone passed in a close 7-yes & 5-no. I voted no.
I am usually in favor of postponements if some middle ground can be reached. However, since the requestor had turn down that option earlier and many residents had taken time to attend, I felt the matter needed to be settled then and there. We will see what happens over the next 30 days with this rezoning.
Ordinance 57
This was another rezoning that was not within the ward, but was only a block away. The property is at Gateway Lane and Haynes Street. This is behind the new Publix complex off of Madison Street. It was a request to change a house into an office property.
This was disapproved a year ago. The rationale, then and now, was that the effort to build walkable neighborhoods close to shopping and businesses needed to be preserved and enhanced where possible.
The city keeps shooting itself in the foot (and possibly in another part of its anatomy) by stating we want have neighborhoods that can blend in to commercial shopping and business. We want people to be able to walk to the store and not have to drive. One of the goals of the Madison Street Overlay was to promote this concept where possible. The new Publix complex appears to be the ideal location to promote and keep this concept.
However, we keep allowing the creep of office and commercial establishments/rezonings into neighborhoods that are located near major shopping and then wonder why everyone drives to get someplace, clogging our insufficient road structure, and complaints grow about the lack of walkability.
The 2030 Smart Growth Plan lays out this vision of that particular area:
A new model for "crossroads development" in Clarksville has been achieved with the charming, pedestrian-friendly Hilldale Village, which is centered by the intersection of Madison Street and Memorial Drive / Golf Club Lane. The retail core of Hilldale Village is a new Publix Supermarket retail center with out parcels located on the old Memorial / Gateway hospital site.
In keeping with the existing concentration of higher density residential near the Hilldale Village main intersection, even more condominiums, senior lifestyle centers and mid-rise residential have been constructed within easy walking distance of the Publix center.
Once again we, as a city, appear great on planning but weak on leadership and management to carry out such plans for any extended time.
The last time this rezoning came up there was good representation from the affected neighborhood to protect their homes from business intrusion and keep the walkable concept. Last night there may have been a couple of residents that attended and only one spoke. The council voted 6-yes & 6-no on the request. I voted no. Mayor Kim McMillan broke the tie with a yes vote so the rezoning passes.
There will be one more vote on that measure and any residents in that neighborhood that thought the battle a year ago would have protected them and did not attend or contact council members have little time to try and reverse the second vote. I heard from a few that were against it, but just about an equal number that were for it.
However, almost all of those for the rezoning did not live in the affected neighborhood and were friends or acquaintances of the requestor.
Resolution 32
This was an interesting debate on this resolution I sponsored. As you recall from my past articles, I am trying to address updating city standards on issues such as signage and lighting for areas outside of current overlay districts such as Madison Street.
As I have had concerns with proper managed development of the Hwy76-MLK corridor, so have other council members with their areas such as Tiny Town Road, Peachers Mill and Fort Campbell Boulevard. I am determined to get this started after years of delay. As part of the regular session agenda, I sent you a copy of my resolution for your information.
If you read the newspaper account of last week's executive council meeting and last night's regular council meeting, you might get confused about "who is on first" and "who did what when" concerning action to address this issue. Last week, just as I am about to discuss my resolution to take action, Mayor McMillan jumps in and declares she is setting up a task force to basically do what I had mentioned a couple of weeks before and was about to discuss at that moment.
Thursday night, just as I am about to present and discuss my resolution for a vote, she again jumps in about "her" task force and wants my resolution defeated for various and sundry reasons. I was actually expecting this reaction by the mayor as it has been seen before.  Let me set the record and timeline straight.
On December 13th, 2012, I alerted the council at that meeting that I was bringing forth a resolution asking the council to approve having the Planning Commission take the lead in developing new standards. I had been talking for several months to the Planning Staff about my request, but had been delayed in formalizing the resolution request for reasons due to office personnel schedules and holidays. Mayor McMillan says nothing about any task force development concept she has planned during the council session.
On December 21st, 2012, I met with the Planning Commission director, Dr. Ripple. We had a good meeting and worked out the basic ideas and some wording to build the resolution I wanted to sponsor. For the months preceding this meeting and through all the various discussions I had with Planning Commission staff, no one mentions or seems aware that the mayor is supposedly working on any task force to address the issues I want.
As Dr. Ripple and I wrap up the meeting, he states he would like to send an email to Mayor McMillan to let her know I had followed-up on my resolution development as mentioned on Dec 13 and to list some thoughts and ideas we had discussed.  I was fine with this and left to prepare a final draft of my resolution.  Dr. Ripple does not mention or provide that he has any inclination that the mayor had expressed any action or interest in addressing my concerns in the resolution.
In Dr. Ripple's email to the mayor, he talks about updating provisions and that an advisory committee needed to be created representing all stakeholders. He states that Building and Codes and the Two Rivers function would be critical participants in the process. The meetings would be open to council members and one or more might wish to be active participants.
Other participants should be developers and professionals that deal with signing and lights. He also offered broader public meetings at key milestone points. These are all good and broad points that he and I talked about to allow flexibility to design a good set of standards.
In December 27th, during the executive session, as I am about to present my resolution the Mayor announces she will direct the formation of a task force to do what I am requesting in my resolution.  Her very general description follows the wording and concepts that Dr. Ripple and I discussed and he presented in his email to the mayor.
The newspaper notes the Mayor's task force concept. I proceed with my presentation of my resolution somewhat pleased the mayor has jumped on board with the idea, but knowing something else was afoot.  The newspaper does not follow-up the mayor's announcement with any questions to Dr. Ripple or myself.
Then, at Thursday night's meeting, as I prepare to present my resolution for a vote, the mayor jumps in again and repeats she is taking action with the task force. After that, I give my presentation of the resolution.  There appears to be no questions, but there is a game afoot and sadly the next 15 to 20 minutes occurred as I had thought they would. I actually had told some members of the audience and council what I thought would happen (if only the lotto was as predictable). The mayor jumps in and states she will vote against it.
She states that she thought I would pull my resolution since she was taking action with the task force. I do not know why she would assume that. It has been beat into our heads that if a council member wants to accomplish something, then the council must act as a whole (that is per the charter). That means we have to vote for an action to be accomplished.
I wanted that vote to assure there was majority agreement this action was needed and that some successful conclusion to the effort might take place.  Just because the mayor has stated she will start a major project does not always mean it will get done. I list the city charter update and the establishment of a 2030 Smart Growth Committee that was approved a year ago and nothing has been accomplished, as examples.
The mayor then stated that a part of my resolution was too narrow in scope and I think she was referring to the title of the resolution. The title is not the enacting part of the legislation. Then my resolution was too broad. The mayor explained she was going to look at who had to enforce such standards, which was a much broader approach than I was looking at.
Then she seemed to have issue that I was looking to have the Planning Commission head-up the study. She stated they were not staffed to do so, although Dr. Ripple said they could do it. I pressed who did she see being the major department facilitating the process since the Planning Commission had always been involved with this work. She did not have any other office in mind and the Planning Commission is the only logical place to assist on this effort.
Then she began saying that my resolution had stated this or stated that and I ask her to show me where she was reading that since it was not in the resolution. She quickly sidestepped that knowing I was right. Then she states it may take a year or more to work this out. Dr. Ripple and I had thought six months minimum and would work for that. The mayor had no timelines or update reports in her task force concept.
At this point the city attorney jumped in to try and facilitate the matter. He stated that he and the Planning Commission would wind up having to write and research the changes. From his experience it would be better to possibly use the resolution to define more specific points and provide guidance after the Task Force has a chance to initially meet and outline some concepts.
The mayor settled that this might be a possibility and I offered a 60-day postponement of my resolution to work with the city attorney and reword it based on some input from the task force. The goal is to set a standard of expectation and possibly a schedule of accomplishment with my resolution.
With that the vote was 12-yes to postpone my resolution until the March regular council session.
Committees
The mayor handed out the committee assignments. She did not ask for any input from council members. Not a whole lot changed for 2013:
Councilman Wallace remains chair of the Finance Committee
Councilman Burkhart still heads Gas & Water
Councilman Grubbs remains head of Public Safety & Codes
Councilman Lewis still runs Street
Councilman Redd is the new head of Parks
Councilman Allen now heads Housing development
Councilman Harris now heads the re-establishment of the Transportation Committee
It is somewhat mystifying that the mayor retained one council member as a chairman. That chairperson missed or cancelled at least half of the regularly scheduled monthly committee meetings, to include four months in a row in 2012. I believe that shows a lack of respect for the city employees that committee is supposed to work with.
Editor's Note: This article contains the view points of Councilman Bill Summers and may not represent the views of the rest of the City Council, the City of Clarksville or ClarksvilleOnline.