Pitts also appointed to the Education Subcommittee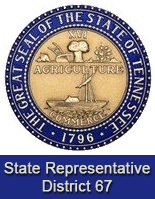 Nashville, TN – Tennessee State Representative Joe Pitts (D-Clarksville) on Thursday was appointed by the Speaker of the House of Representatives to serve on the Education, Insurance and Banking, and Ethics Committees in the 108th General Assembly.
"I am grateful for the appointments to these key committees in the House of Representatives," said Pitts. "Education and jobs continue to be my priorities and these appointments will help sharpen that focus for our next term."
"In a community with an outstanding school system like Clarksville-Montgomery County, I am excited to use our local success to help other districts across our state improve their public education systems for all students," said Pitts. "Education is the key to economic success for Tennesseans and their families."
Pitts will also serve on the general subcommittee of Education.  These subcommittees are designed, through in depth study, to filter out less practical bills filed in each standing committee.
The Legislature is expected to recess until January 28th to allow new members and staff to settle into their new offices.
"It is a privilege to serve the citizens of District 67 in the Tennessee General Assembly," Pitts said.