The 106th meeting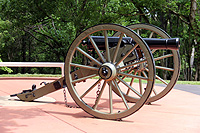 Clarksville, TN – The next meeting of the Clarksville (TN) Civil War Roundtable will be on Wednesday, January 16th, 2013 at the Bone & Joint Center, 980 Professional Park Drive, right across the street from Gateway Hospital.  This is just off Dunlop Lane and Holiday Drive and only a few minutes east of Governor's Square mall.  The meeting begins at 7:00 pm and is always open to the public.  Members please bring a friend or two – new recruits are always welcomed.

The meetings topic is "Confederate Reunions in Franklin, Tennessee 1877-1925"

As with the former members of the Union Army, Confederate veterans also formed organizations where their members could get together and reminisce about their time in the Civil War. Thus was formed the United Confederate Veterans, and much later, the Sons of Confederate Veterans.

In addition to their reunions, these camps helped to raise money to care for Confederate cemeteries and raise monuments on battlefields in many Southern towns like the one in downtown Franklin, Tennessee.  These camps, along with the United Daughters of the Confederacy, helped keep the memory of the Confederate soldier alive and helped write much of the Lost Cause history via the magazine Confederate Veteran or by books.

This month's program, by noted Williamson County historian Rick Warwick, will examine the Confederate reunions held in Franklin, Tennessee between 1877 and 1925.  Over time, all of these camps fell apart due to the passing of its members but they left behind a history that will form the basis of this program.

Rick Warwick is a retired school librarian, Williamson County, Tennessee historian, editor of the Williamson County Historical Society Journal and the author of several Williamson County related books including the authoritative, Williamson County: Civil War Veterans-Their Reunions & Photographs.

He has served on the boards of the Carter House, Carnton Plantation, The Heritage Foundation of Franklin and Williamson County, Franklin's Charge and is currently serving on the African American Heritage Society of Williamson County and the Tennessee Historical Commission.



Sections
Events
Topics
Bone & Joint Center, Civil War, Clarksville Civil War Roundtable, Clarksville TN, Confederate, Dunlop Lane, Franklin TN, Gateway Medical Center, Governors Square Mall, Holiday Drive, Professional Park Drive, Rick Warwick, Sons of Confederate Veterans, Union Army, Williamson County