Clarksville, TN – On January 11th, 2013, around 11:30pm, Clarksville Police Officers responded to call in reference to two children found walking barefoot down the street without adult supervision.
When officers arrived, they were told by a 21 year old man who found the children that he came home to his apartment complex, saw the two girls wandering around, and kept the children with him until Police arrived.
The children were two and five years old. Officer Chris MacMillan spoke to the oldest of the two children who told him where they lived.

Officer MacMillan went to the apartment and was able to contact the mother, Candace Sellner, who had no idea that her children were out of the apartment. She had been using a computer and had headphones on and did not know the children had left.

There was approximately one half hour between the time the children had been found and locating the mother.

Additionally, the officer found the apartment in deplorable condition, with clothes and trash on the floor and cockroaches climbing up the wall. The apartment smelled of ammonia and urine but no animals lived there. Department of Children Services was contacted and responded to the scene for an investigation.

The father was contacted at work and came home to take care of the children.
Candace Sellner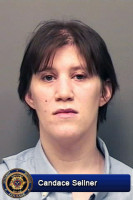 Name: Candace Sellner
Race: W
Gender: F
DOB: 12/9/80
Given Address: 3312 Royster Lane, Apt. C, Clarksville, TN
Arresting Officer: Chris MacMillan
Charged With: Child Abuse and Neglect
Booked Into: Montgomery County Jail
Bond: $1,000.
Sections
News
Topics
Bond, Child Abuse and Neglect, Clarksville Police Department, Clarksville TN, CPD, Montgomery County jail, Royster Lane, Tennessee Department of Children Services