SIU Edwardsville vs. Austin Peay Governors
Thursday, January 17th, 2013 | 7:00pm
Dave Aaron Arena/Dave Loos Court | Clarksville, TN

Clarksville, TN – Southern Illinois University Edwardsville will make its first trip to Clarksville when Austin Peay serves as host to the Cougars, 7:00pm, Thursday in Dave Aaron Arena.
The Govs played and won against the Cougars last year in Edwardsville in the respective programs' first meeting. But this time the Cougars come to Clarksville as full-fledged Ohio Valley Conference members and West Division rivals.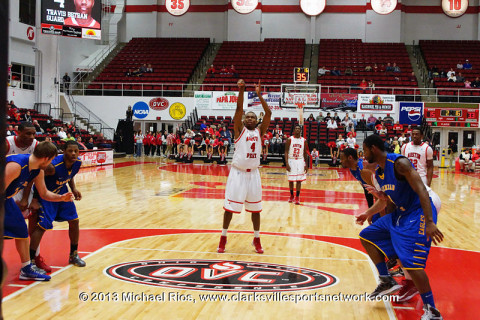 SIUE comes in at 5-9 overall and 1-3 in the OVC. The Cougars recorded their season's first OVC victory, Saturday, in downing Tennessee Tech, 58-54, to snap a four-game losing streak.
Forward Jerome Jones leads SIUE at 15.1 ppg while Kris Davis, who led the nation three-point shooting as a freshman, is at 10.4 ppg.
Austin Peay, meanwhile, again will attempt to get back on the winning track with a pair of OVC home tilts this weekend. The Govs stand 1-3 in the OVC after losing to Murray State, 71-68, last Saturday. All three league defeats have been by three points or less.
Junior guard Travis Betran picked up his second straight-and fifth overall-OVC Newcomer of the Week after scoring more than 20 points in each game last week, including 27 against Murray State.
Home Comes To Clarksville
Forwards Anthony Campbell and Will Triggs hail from Edwardsville, IL, and Thursday's game will be the first time SIU Edwardsville comes to the APSU campus in basketball. The Governors played at SIUE last season, with Triggs getting a chance to play in his hometown for the first time as a collegian.
Campbell, however, did not play in the game after undergoing knee surgery earlier that winter. In addition to Campbell and Triggs, the Govs have two others who don't live far from Edwardsville-redshirt sophomore forward Joe Harms,  of Belleville, IL, and freshman guard Cory Arentsen, of Breese, IL.
Fastbreak
This is Dave Loos' 23rd season as Austin Peay head coach and he is 369-322 at APSU-the winningest basketball coach in Ohio Valley Conference history-while 450-375 all-time in his 27th season as a college head coach
Austin Peay was picked to finish third behind Murray State and Southeast Missouri in the newly formed OVC West Division in the preseason poll.
After playing five straight games away from Dave Aaron Arena, the Govs now are amidst a four-game home stand, with this being Game No. 3.
APSU enters the game seeking to rebound from a 71-68 loss to Murray State, Saturday night.
This is SIU Edwardsville's first trip to Clarksville and Austin Peay.
SIUE is in its first season as a full-fledged member of the OVC and is eligible for the league tournament for the first time.
SIUE comes in at 5-9 overall and 1-3 in the OVC, defeating Tennessee Tech, 58-54, last Saturday. Michael Messer led the way with 14 points while Jerome Jones added 13. Reggie Reed failed to score a point but had five assists and four steals to spark the defensive effort.
Lennox Forrester is in his sixth season as the Cougars head coach, owning a 55-101 record.
Forward Jerome Jones leads SIUE in scoring at 15.1 ppg, including a team-high 33 three pointers. Guard Kris Davis, the league's top three-point shooters a year ago, is at 10.4 ppg while forward Michael Messer averages 10.1 ppg.
The Series
This is the second meeting between Austin Peay and one of the newest OVC members, SIU Edwardsville. The Govs lead the series, 1-0, with APSU defeating the Cougars, 80-67, in the two teams' first meeting, January 19th, 2012. This is SIUE's first visit to Clarksville and Dave Aaron Arena.
What A Win Would Mean
The Govs would win their second OVC game…they would improve to 6-13…they would go 2-3 in January…it would be the Govs' second OVC home victory of 2012-13…they would go to 2-0 all-time against SIUE…it would make Dave Loos 2-0 all-time against SIU Edwardsville….it would make Loos 2-0 against SIUE coach Lennox Forrester…it would be Loos' 451st career victory.
What A Loss Would Mean
The Govs would drop nine games below the .500 mark at 5-14…the Govs would lose their second straight OVC home game…it would be the Govs' first loss in the series…the Govs would drop to 4-4 at home this season…the Govs would fall to 1-4 in January…it would be Dave Loos' 324th APSU loss and 377th all-time.
Betran Captures OVC Award Again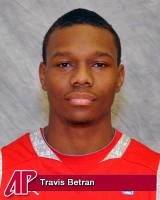 For the second consecutive week and the fifth time this season Austin Peay guard Travis Betran has been named OVC Newcomer of the Week. The junior from Harlem, NY, averaged 23.5 points/game in two outings last week in leading APSU to a split.
In APSU's first OVC win, 84-81, against Morehead State, Betran hit the game-winning fall-away three pointer at the overtime buzzer. He finished the game 3-of-6 from three point line and 7-of-7 at the free-throw line in tallying 20 points.
Against Murray State, Betran finished with 27 points, including 5-of-11 from the three-point line. He came up big especially in the final minute when APSU's rally just fell short. However, Betran connected on a trio of three pointers in the final 52 seconds, including one that became a four-point play.
Trey Time
Austin Peay's 26 threepoint field goal attempts against Murray State tied the season single-game high, originally set November 28th against Berea. In hitting 10 three-pointers, the Govs have now reached double-figures in made three pointers five times in the last seven games.
Be-Dazzling
In playing all but one minute against Murray State, junior guard Travis Betran played all but one minute of the game. He finished with 27 points, the fourth consecutive game and eighth time this season he's broken the 20-point barrier.
Trigg-Onomics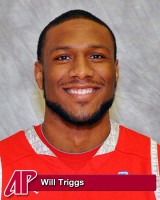 On the heels of enjoying his best OVC weekend of his career, junior forward Will Triggs continued his recent strong play against Morehead State and Murray State.
After recording his season's second 20-point outing against Morehead State, Triggs followed it up with 12 points against Murray State.
The 6-5 Edwardsville native is shooting 70.5 percent in four OVC games, averaging 19 points/game.
Purvious
The smallest player on the court, walk-on guard Jeremy Purvis tied for the Govs' rebounding lead against Murray State with a season-high five grabs.
Why They Are Free
Over the last three games, guard Travis Betran and forward Anthony Campbell have combined to make 36 out of 39 free throws. Betran has gone 23-of-25 at the charity stripe, including 7-of-7 against Morehead State, while Campbell has been 13-of-14 at the line.
Block Party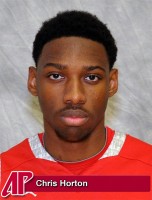 Freshman center Chris Horton was credited with three blocks against Murray State, making it the 10th time this season he has blocked three or more shots.
Horton now has 54 blocks,lifting him to 14th all-time for career blocks.
Media Center
Radio: Governors Radio Network
Play-by-Play: Greg Walker
Analyst: David Loos
Statistics: Patrick Miller
WVRY 105.1-FM
www.letsgopeay.com
Television: Peay Nation Broadcasting
Play-by-Play: Kyle Harrison
Analyst: Leslie Martinez