APSU Sports: Austin Peay Baseball

Clarksville, TN – Season tickets for the 2013 Austin Peay State University baseball season are now on sale.
The best entertainment value in Clarksville, fans can purchase a full season ticket – a 33-game slate in 2013 – for $45.00 in person at the Austin Peay Ticket Office or by calling 931.221.7761. Fans that have purchased a season ticket or complete their purchase before January 31st will receive a baseball autographed by the 2013 Govs baseball team.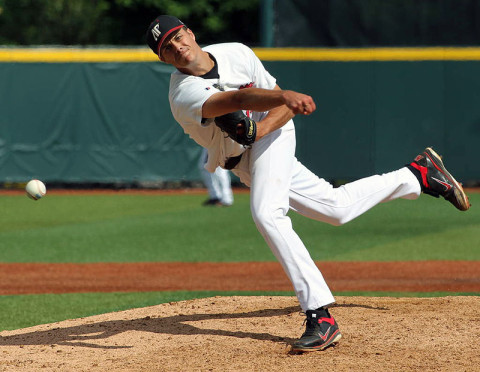 The home of the Governors, Raymond C. Hand Park, provides a scenic location throughout the season. Be at The Hand all season long as the Govs seek to continue a tradition that has produced five Ohio Valley Conference regular-season crowns in the last 10 seasons.
The Govs will be led by 26th-year head coach Gary McClure, preseason All-American Jordan Hankins, and returning seniors Casey Delgado, Reed Harper, Cody Hudson and Tyler Rogers.
The 2013 home schedule features important OVC series against Jacksonville State, Tennessee Tech, Belmont, Morehead State and SIU Edwardsville. The Govs open the season with four straight home weekends featuring Big Ten foes Iowa and Michigan State as well as Missouri Valley foes Illinois State and Creighton.
A complete 2013 schedule is available at www.LetsGoPeay.com – the official website of Austin Peay Athletics.
Austin Peay Governors Baseball 2013 Schedule
Date

Opponent

Location

Time (CT)

2012 Red-White World Series

Fri, Nov 02
RWWS Game 1
Clarksville, Tenn.
5:00 p.m.
Sat, Nov 03
RWWS Game 2
Clarksville, Tenn.
11:00 a.m.
Sun, Nov 04
RWWS Game 3
Clarksville, Tenn.
1:00 p.m.
Thu, Nov 08
RWWS Game 4
Clarksville, Tenn.
4:00 p.m.
Fri, Nov 09
RWWS Game 5
Clarksville, Tenn.
4:00 p.m.
Fri, Feb 15
Iowa
Clarksville, Tenn.
3:00 p.m.
Sat, Feb 16
Iowa
Clarksville, Tenn.
1:00 p.m.
Sun, Feb 17
Iowa
Clarksville, Tenn.
1:00 p.m.
Tue, Feb 19
Middle Tennessee
at Murfreesboro, Tenn.
3:00 p.m.
Fri, Feb 22
Illinois State
Clarksville, Tenn.
3:00 p.m.
Sat, Feb 23
Illinois State
Clarksville, Tenn.
1:00 p.m.
Sun, Feb 24
Illinois State
Clarksville, Tenn.
1:00 p.m.
Tue, Feb 26
Southern Illinois
Clarksville, Tenn.
3:00 p.m.
Wed, Feb 27
Indiana State
Clarksville, Tenn.
3:00 p.m.
Fri, Mar 01
Michigan State
Clarksville, Tenn.
3:00 p.m.
Sat, Mar 02
Michigan State
Clarksville, Tenn.
1:00 p.m.
Sun, Mar 03
Michigan State
Clarksville, Tenn.
1:00 p.m.
Tue, Mar 05
Western Kentucky
at Bowling Green, Ky.
3:00 p.m.
Wed, Mar 06
Western Kentucky
Clarksville, Tenn.
3:00 p.m.

2013 Riverview Inn Classic

Fri, Mar 08
Creighton vs. UALR
at Clarksville, Tenn.
12:00 p.m.
Fri, Mar 08
Milwaukee
Clarksville, Tenn.
3:30 p.m.
Sat, Mar 09
Milwaukee vs. UALR
at Clarksville, Tenn.
12:00 p.m.
Sat, Mar 09
Creighton
Clarksville, Tenn.
3:30 p.m.
Sun, Mar 10
Creighton vs. Milwaukee
at Clarksville, Tenn.
11:00 a.m.
Sun, Mar 10
UALR
Clarksville, Tenn.
2:30 p.m.
Wed, Mar 13
Lipscomb
at Nashville, Tenn.
4:00 p.m.
Fri, Mar 15
Eastern Illinois *
at Charleston, Ill.
2:00 p.m.
Sat, Mar 16
Eastern Illinois *
at Charleston, Ill.
1:00 p.m.
Sun, Mar 17
Eastern Illinois *
at Charleston, Ill.
1:00 p.m.
Wed, Mar 20
Indiana State
at Terre Haute, Ind.
2:00 p.m.
Fri, Mar 22
Jacksonville State *
Clarksville, Tenn.
6:00 p.m.
Sat, Mar 23
Jacksonville State *
Clarksville, Tenn.
2:00 p.m.
Sun, Mar 24
Jacksonville State *
Clarksville, Tenn.
1:00 p.m.
Tue, Mar 26
Mississippi State
at Starkville, Miss.
6:30 p.m.
Thu, Mar 28
Murray State *
at Murray, Ky.
3:00 p.m.
Fri, Mar 29
Murray State *
at Murray, Ky.
2:00 p.m.
Sat, Mar 30
Murray State *
at Murray, Ky.
1:00 p.m.
Tue, Apr 02
Lipscomb
Clarksville, Tenn.
6:00 p.m.
Fri, Apr 05
Tennessee Tech *
Clarksville, Tenn.
6:00 p.m.
Sat, Apr 06
Tennessee Tech *
Clarksville, Tenn.
2:00 p.m.
Sun, Apr 07
Tennessee Tech *
Clarksville, Tenn.
1:00 p.m.
Tue, Apr 09
Kentucky
at Lexington, Ky.
5:30 p.m.
Wed, Apr 10
Southern Illinois
at Carbondale, Ill.
3:00 p.m.
Fri, Apr 12
Southeast Missouri *
at Cape Girardeau, Mo.
5:00 p.m.
Sat, Apr 13
Southeast Missouri *
at Cape Girardeau, Mo.
2:00 p.m.
Sun, Apr 14
Southeast Missouri *
at Cape Girardeau, Mo.
1:00 p.m.
Tue, Apr 16
Evansville
at Evansville, Ind.
6:00 p.m.
Fri, Apr 19
Belmont *
Clarksville, Tenn.
6:00 p.m.
Sat, Apr 20
Belmont *
Clarksville, Tenn.
2:00 p.m.
Sun, Apr 21
Belmont *
Clarksville, Tenn.
1:00 p.m.
Wed, Apr 24
Evansville
Clarksville, Tenn.
6:00 p.m.
Fri, Apr 26
Eastern Kentucky *
at Richmond, Ky.
2:00 p.m.
Sat, Apr 27
Eastern Kentucky *
at Richmond, Ky.
1:00 p.m.
Sun, Apr 28
Eastern Kentucky *
at Richmond, Ky.
12:00 p.m.
Wed, May 01
Middle Tennessee
Clarksville, Tenn.
6:00 p.m.
Fri, May 03
Morehead State *
Clarksville, Tenn.
6:00 p.m.
Sat, May 04
Morehead State *
Clarksville, Tenn.
2:00 p.m.
Sun, May 05
Morehead State *
Clarksville, Tenn.
1:00 p.m.
Fri, May 10
UT Martin *
at Martin, Tenn.
6:00 p.m.
Sat, May 11
UT Martin *
at Martin, Tenn.
4:00 p.m.
Sun, May 12
UT Martin *
at Martin, Tenn.
1:00 p.m.
Tue, May 14
Memphis
at Memphis, Tenn.
6:30 p.m.
Thu, May 16
SIU Edwardsville *
Clarksville, Tenn.
6:00 p.m.
Fri, May 17
SIU Edwardsville *
Clarksville, Tenn.
6:00 p.m.
Sat, May 18
SIU Edwardsville *
Clarksville, Tenn.
2:00 p.m.

2013 Ohio Valley Conference Baseball Championship

Wed, May 22
Opening Rounds
at Jackson, Tenn.
TBA
Thu, May 23 –
Fri, May 24
Tournament Play
at Jackson, Tenn.
TBA
Sat, May 25 –
Sun, May 26
Championship
at Jackson, Tenn.
TBA

2013 NCAA Baseball Championship

Thu, May 30 –
Sun, Jun 02
Regionals
at TBA
TBA
Fri, Jun 07 –
Sun, Jun 09
Super Regionals
at TBA
TBA
Fri, Jun 14 –
Tue, Jun 25
Men's College World Series
at Omaha, Neb.
TBA
* Conference Games