Austin Peay Governors vs. Tennessee Tech
Saturday, January 26th, 2013 | 7:30pm (CT)
Eblen Center | Cookeville, TN

Cookeville, TN – One thing for sure Austin Peay or Tennessee Tech will achieve a first Saturday in the 7:30pm, Ohio Valley Conference match up at the Eblen Center.
If the Govs can capture a victory, it would not only be their first OVC road victory this season, but their first road win period as well in 2012-13.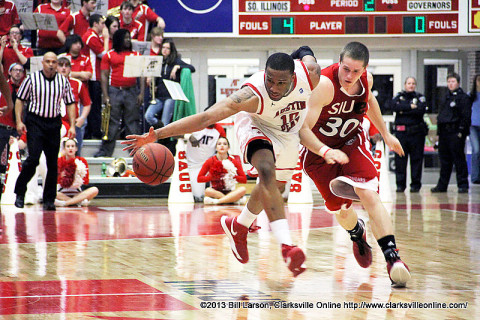 If Tennessee Tech claims victory, it would be the Golden Eagles first league home win this season. It also would be their fifth straight win in the series.
In addition to that, one of the two teams will emerge with the series lead. After 136 match ups-the series began in 1941-42–the series is tied at 68 victories apiece.
Tennessee Tech is coming off a 47-39 loss to Murray State in a contest that the Golden Eagles hold the Racers to only 34-percent shooting. However, they could not overcome their own offensive struggles as TTU shot just 25.5 percent from the field.
Senior guard/forward Jud Dillard led the Tech scoring effort with 12 points. Junior forward Dennis Ogbe added 10.
APSU is coming off an improved offensive performance in another road loss, an 81-74 loss at Jacksonville State. The Govs shot 55.2 percent from the floor and out-rebounded an OVC opponent for the first time this season. But the Govs allowed 54 percent shooting while committing 17 turnovers, many in untimely fashion.
Travis Betran and freshman Chris Horton led the Govs with 18 points while Will Triggs added 16-all in the second half.
Fastbreak
This is Dave Loos' 23rd season as Austin Peay head coach and he is 368-326 at APSU-the winningest basketball coach in Ohio Valley Conference history-while 450-379 all-time in his 27th season as a college head coach
Austin Peay was picked to finish third behind Murray State and Southeast Missouri in the newly formed OVC West Division in the preseason poll.
After going 1-3 on its recent homestand, APSU is amidst its second game of a three-game road trip. APSU opened the trip with an 81-74 loss at Jacksonville State, Thursday night.
APSU enters the game having lost four straight and 12 out of their last 13 games following the loss at JSU.
Tennessee Tech comes in at 8-12 overall, but 1-6 in the OVC. The Golden Eagles have lost three straight and eight of their last nine.
This will be Tennessee Tech's last cross-divisional game until the Golden Eagles play UT Martin, February 21st.
What You Should Know
The Series: This is the 137th meeting between Austin Peay and Tennessee Tech, two Ohio Valley Conference rivals, with the series tied 68-68. Austin Peay lost the only meeting between the two teams last year, a 94-88 decision in Clarksville, February 2nd, 2012. It was the Golden Eagles fourth straight win in the series.
Deeper Meanings
What A Win Would Mean: The Govs would win their second OVC game…they would improve to 6-16…they would go 2-6 in January…it would be the Govs' first OVC road win…it would be the Govs' first road win in 2012-13…they would go to 69-68 all-time against Tennessee Tech…it would make Dave Loos 30-24 all-time against Tennessee Tech…it would make Loos 1-1 against current TTU coach Steve Payne…it would be Loos' 451st career victory.
What A Loss Would Mean: The Govs would drop 12 games below the .500 mark at 5-17…the Govs would lose their third fifth straight game…the Govs would fall to 1-2 against OVC East teams…the Govs would fall to 0-9 on the road this season…it would be APSU's fifth straight loss in the series…the Govs would end January at 1-7…it would be Dave Loos' 327th APSU loss and 380th all-time.
Hot Shots
The Govs' 55.2 percent shooting against Jacksonville State not only was their best against an OVC opponent this year but the highest against a Division I opponent as well. It also ranks second only behind the 56.7 percent the Govs shot against Berea.
Nine Ball
When Travis Betran scored 18 points against Jacksonville State and Will Triggs 16, the duo now has scored in double figures nine straight games.
Double-Double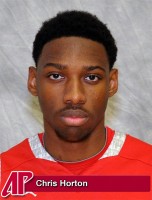 With his 18 points and 10 rebounds against Jacksonville State, Chris Horton tallied his season's fourth double-double, but first since December 8th, 2012, at Memphis.
Horton's 18 points also represented his first double digit scoring performance since December 29th when he had 13 against High Point in the Dr. Pepper Classic.
With The Assist
Anthony Campbell recorded a career-high five assists against the Gamecocks. His previous best was four.
Anomaly
When Austin Peay shot 32 of 58 against Jacksonville State it was the second straight game and the fifth time this season the Governors had shot 50 percent or better from the floor and lost.
Willfully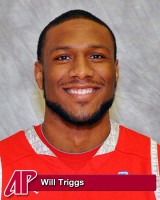 With his 8-of-12 shooting against Jacksonville State, Will Triggs now has shot 50 percent or better from the floor in nine straight games.
In that nine-game span Triggs is 58 of 86 from the floor, 67.4 percent shooting.
Trio's Take
In the second half against Jacksonville State, forward Will Triggs, center Chris Horton and guard Travis Betran accounted for 19 of APSU's 21 field goals, shooting a combined 19 of 25 (76 percent).
On The Rebound
After being outrebounded by the first six OVC opponents, the Govs claimed a 32-22 edge against Jacksonville State, Thursday. It also was just the second time in the last 13 games where APSU held a rebounding advantage.
Free Throw Struggles
The Govs made just 6 of 13 from the free-throw line against JSU, making it the second time this year APSU made less than 50 percent from the line. In fact, APSU has made less than 60 percent from the line on six different occasions this season.
Freshman Forays
In addition to Chris Horton's big night, the Govs' other three freshmen enjoyed solid efforts against Jacksonville State.
Forward Preston Herring had a season-best two blocked shots against the Gamecocks to go with two assists and two rebounds in 13 minutes.
Guard Cory Arentsen had three assists and two steals in nine minutes. Meanwhile, point guard AJ Lynch had an assist and zero turnovers in 14 minutes while providing solid defense.
Why They Are Free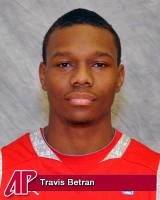 Over the last six games, guard Travis Betran and for ward Anthony Campbell have combined to make 46 out of 50 free throws (92 percent).
Betran has gone 30-of-32 at the charity stripe, including 5-of-5 against Eastern Illinois, while Campbell has been 16-of-18 at the line
Balance Missing
In the last nine games, the Governors have had 28 double figure scoring performances, with 25 of the 28 coming from the trio of Travis Betran, Will Triggs and Anthony Campbell.
Freshman Chris Horton scored 10 points against High Point in the consolation game of the Dr. Pepper Classic before tallying 18 versus. Jacksonville State, Thursday night. And Thomas Greer recorded his first career double-figure scoring game against Morehead State with 11 points.
Media Center
Radio: Governors Radio Network
Play-by-Play: Greg Walker
Analyst: David Loos
WVRY 105.1-FM