APSU Sports: Austin Peay Men's Basketball

Cookeville, TN – Austin Peay State University's not-so-positive trademark has been slow starts during its recent losing streak. Saturday night represented its worst start of 2013.
Tennessee Tech jumped out to a 13-2 lead and never looked back as it rolled past the Governors, 70-52, in Ohio Valley Conference basketball action played at the Eblen Center.
The Governors lost for the fifth straight time and fell to 5-17 overall and 1-7 in the OVC West. Tennessee Tech, meanwhile, won its first league home game and improved to 9-12 overall and 2-6 in the OVC East.
Guard Jud Dillard, a preseason All-OVC selection, racked up 25 points, 11 rebounds and eight assists in a one-man domination while the Governors proved to be no match inside for the big bodies of Dennis Ogbe, Terrell Barnes and Anthony Morse, who combined for 26 point and 18 rebounds, including 10 on the offensive glass.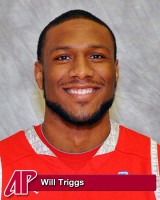 The Golden Eagles shot 58 percent (18 of 31) and grabbed seven offensive rebounds resulting in a 44-23 halftime lead. In losing to Murray State, Thursday, Tennessee Tech had just 39 points for the entire contest.
APSU shot just 40.4 percent (19 of 47), but the telltale offensive statistic was six-that is the number of assists APSU had on the night compared to 18 for the Golden Eagles.
APSU made a brief second-half surge, cutting a 51-27 deficit to 14 points with a 10-0 run, but consecutive Tennessee Tech threes ended any thoughts of a comeback.
Anthony Campbell and Travis Betran led the Govs with 14 points while Will Triggs added 13 points. No other Gov had more than three points. The 52 points represented a season low.
Austin Peay Governors travel to Murray, KY Saturday, February 2nd to face rival Murray State Racers. Tip off is at 12:00pm.
Box Score
Austin Peay vs Tennessee Tech
1-26-13 7:30pm at Eblen Center (Cookeville, TN)
Austin Peay 52
Total
3-point
Rebounds
##
Player
p
fgm-fga
fgm-fga
ftm-fta
off-def
tot
pf
tp
a
to
blk
stl
min

10

TRIGGS, Will

f

6-10

0-0

1-2

1-4

5

1

13

1

4

0

3

34

25

CAMPBELL, Anthony

f

5-8

1-3

3-4

1-1

2

3

14

0

2

0

2

26

05

HORTON, Chris

c

1-5

0-0

0-2

3-1

4

0

2

1

1

2

0

21

04

BETRAN, Travis

g

4-13

2-5

4-4

0-2

2

0

14

3

4

0

0

40

23

LYNCH, AJ

g

0-1

0-0

0-1

0-1

1

3

0

0

2

0

1

14

11

GREER, Thomas

–

0-2

0-1

1-2

0-1

1

1

1

0

0

0

0

15

12

PURVIS, Jeremy

–

0-2

0-1

0-0

0-1

1

1

0

0

0

0

1

21

15

FREEMAN, Chris

–

1-2

0-0

1-2

2-2

4

4

3

1

0

0

0

17

20

ARENTSEN, Cory

–

1-2

1-1

0-0

0-2

2

0

3

0

0

0

0

4

21

HERRING, Preston

–

1-2

0-0

0-1

1-1

2

0

2

0

0

1

0

8

TM

TEAM

–

–

–

–

2-1

3

–

–

–

–

–

–

–

Totals…………..

–

19-47

4-11

10-18

10-17

27

13

52

6

13

3

7

200

40.4%

36.4%

55.6%

Team summary:
FG
3FG
FT
1st Half:

7-20

3-7

6-10

35.0%

42.9%

60.0%

2nd Half:

12-27

1-4

4-8

44.4%

25.0%

50.0%
Tennessee Tech 70
Total
3-point
Rebounds
##
Player
p
fgm-fga
fgm-fga
ftm-fta
off-def
tot
pf
tp
a
to
blk
stl
min

33

OGBE, Dennis

f

5-8

0-2

0-0

6-2

8

4

10

2

2

0

0

29

35

MORSE, Anthony

f

4-6

0-0

2-2

2-4

6

1

10

1

1

1

0

22

02

SAMARRIPPAS, Jeremia

g

1-3

1-3

0-0

0-0

0

3

3

4

4

0

2

26

05

MCKAY, Javon

g

2-3

1-2

2-2

0-0

0

3

7

0

1

0

1

18

25

DILLARD, Jud

g

9-21

3-6

4-4

2-9

11

1

25

8

0

1

2

40

11

BARNES, Terrell

–

3-3

0-0

0-3

0-4

4

4

6

2

3

1

1

20

12

HILL, Mitchell

–

2-4

2-4

0-0

0-1

1

3

6

0

2

0

0

24

15

DIRESSA, Ammanuel

–

1-6

1-6

0-0

1-0

1

2

3

1

2

0

0

14

30

RIGGINS, Ryon

–

0-1

0-0

0-0

2-1

3

1

0

0

1

0

0

7

TM

TEAM

–

–

–

–

0-2

2

–

–

–

–

–

–

–

Totals…………..

–

27-55

8-23

8-11

13-23

36

22

70

18

16

3

6

200

49.1%

34.8%

72.7%

Team summary:
FG
3FG
FT
1st Half:

18-31

4-12

4-5

58.1%

33.3%

80.0%

2nd Half:

9-24

4-11

4-6

37.5%

36.4%

66.7%
| | | | | |
| --- | --- | --- | --- | --- |
| Score by Periods | 1st | 2nd | Total | |
| Austin Peay | 23 | 29 | 52 | Record: (5-17 (1-7)) |
| Tennessee Tech | 44 | 26 | 70 | Record: (8-12 (2-6)) |
Officials: Scott Johnson, Steve Divine, James Hicks
Technical fouls: Austin Peay-None. Tennessee Tech-None.
Attendance: 2459