APSU Sports: Austin Peay Women's Tennis

Birmingham, AL – Austin Peay State University women's tennis opened the spring season, Saturday, with a dual match at Samford. The Lady Govs dropped the season's first dual meet, 7-0, for the second year in a row.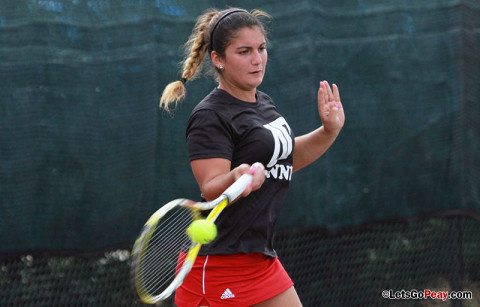 Sophomore Alison Carre had first crack at securing the No. 1 job; she fell 6-2,6-0 to Samford's Kristin Lewis. Sophomore Ornella Di  Salvo (6-1,6-4) lost to Jessica Northcutt and junior Andra Cornea (6-2,6-4) fell to Stephanie N'tcha as Austin Peay's second and third-seeded players, respectively.
Vanessa Tavares battled in No. 4 singles, falling 6-3,6-3 to Carlita Moolman. Sophomores Julie Covington and Jovana Karac took the other singles losses for Austin Peay.
Tavares and Carre, the No. 2 doubles pair, dropped an 8-5 decision to N'tcha and Northcutt. Covington and Karac lost in No. 3 doubles, 8-1, to conclude the day for the Lady Govs.
Austin Peay returns to action 6:00pm, Friday, February 8th, at Chattanooga.
Singles competition
1. Kristin Lewis (SAM-WT) def. CARRE, Alison (APSUW) 6-2, 6-0
2. Jessica Northcutt (SAM-WT) def. DI SALVO, Ornella (APSUW) 6-1, 6-4
3. Stephanie N'tcha (SAM-WT) def. CORNEA, Andra (APSUW) 6-2, 6-4
4. Carita Moolman (SAM-WT) def. TAVARES, Vanessa (APSUW) 6-3, 6-3
5. Emily Mallory (SAM-WT) def. KARAC, Jovana (APSUW) 6-0, 6-4
6. Adri Lochner (SAM-WT) def. COVINGTON, Julie (APSUW) 6-0, 6-0
Doubles competition
1. Kristin Lewis/Emily Mallory (SAM-WT) vs. DI SALVO, Ornella/CORNEA, Andra (APSUW) unfinished
2. Stephanie N'tcha/Jessica Northcutt (SAM-WT) def. TAVARES, Vanessa/CARRE, Alison (APSUW) 8-5
3. Carita Moolman/Adri Lochner (SAM-WT) def. COVINGTON, Julie/KARAC, Jovana (APSUW) 8-1