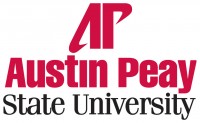 Clarksville, TN – Sylvia is a dog. A labradoodle to be exact. Sometimes on walks she speaks English, discussing philosophy and the universe with her human companion, Greg. More often, she runs excitedly around a New York City apartment, doing dog things such as chewing up books and annoying Greg's wife, Kate.
"The dog becomes a bone of contention," Dr. Sara Gotcher, Austin Peay State University associate professor of theater, said. "It becomes a problem between the husband and the wife, and it's taken to a ludicrous extreme."
Gotcher was referring to A.R. Gurney's popular play, "Sylvia," which the APSU Area of Theatre and Dance will present at 7:30pm February 13th–16th and at 2:00pm on February 17th in the Trahern Theatre. Tickets, which go on sale February 4th, are $5.00 for students and $10.00 for adults. The local performance will feature APSU students Nina LaRocca, Josh Webb, Christian Jasper and Anne Winters.
The play was a bit of a sensation when it premiered in 1995 with Sarah Jessica Parker in the title role as the labradoodle. Gurney, known for his Pulitzer Prize-nominated drama "Love Letters" and the comedy of manners "The Dining Room," surprised audiences with the comedic absurdity of "Sylvia."
"It really is like A.R. Gurney meets 'Saturday Night Live,'" Gotcher, the play's director, said. "It's such a wild and wacky play, and it all comes together in the end and resolves itself. It's really funny."
The play may be funny and about a dog, but Gotcher also warns that it includes adult language and may not be suitable for young audiences.
For more information, contact the APSU Area of Theatre and Dance at 931.221.6767. To purchase tickets online, visit www.austinpeaytickets.com.