APSU Sports: Austin Peay Men's Basketball

Clarksville, TN – Kellen Thornton tipped in a missed shot at the regulation buzzer and then Tennessee State scored the overtime's first seven points as the Tigers defeated Austin Peay State University, 88-82, Thursday night in Ohio Valley Conference basketball action.

It was the Governors second straight overtime defeat-seventh consecutive overall loss-as it dropped to 5-19 overall and 1-9 in the OVC. Tennessee State, meanwhile, improved to 14-10 overall and 8-3 in the OVC.

APSU rallied from a five-point deficit late in regulation and tied the game, 65-65 when Will Triggs worked his way inside for a contested bucket with 41 seconds left. After Triggs missed a chance at a three-point play, TSU grabbed the rebound and called timeout with 34 seconds remaining.

Star TSU guard Patrick Miller missed a jumper and Thornton snagged the rebound but then turned it over. The ball squirted out of his hands to Will Triggs near the top of the circle. He looked up and spotted a wide-open Herdie Lawrence past midcourt. Lawrence drove in and made the layup with 4.8 seconds left.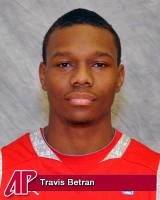 TSU eschewed the timeout and hurried the ball up court. Jordan Cyphers contested three pointer failed to draw iron, which worked to the benefit of TSU and Thornton, who just had enough time to grab it and lay it in before the horn sounded.
As a result, TSU took momentum into overtime. The Tigers won the extra-session tip and Miller quickly gave the Tigers a lead with a lane jumper. After the Govs missed, Covington then scored on a layup. After an APSU turnover, Cyphers connected on a three to give TSU a 74-67 lead. APSU would never get closer than five the game's remainder. TSU made six-of-seven shots in overtime and was 8-of-9 at the free-throw line, offering the Govs little hope for a comeback.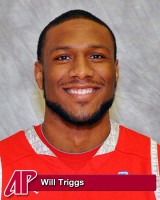 Travis Betran finished with 28 points, leading all scorers, while Triggs, bouncing back from a two-point performance against Murray State, ended with 18 points and 11 rebounds. Anthony Campbell, who was unable to find the range all night from three-point range (0-of-5), ended with 15 points and eight rebounds.
Campbell finished 7-of-8 at the free-throw line while Betran was 6-of-6-the rest of the Govs were just 4-of-13, elusive points that proved vital in the closing minutes. Tennessee State, a 72 percent free-throw shooting team coming in, was 22 of 26 (84.6 percent) at the free-throw line for the game.
Miller finished with 25 points for TSU, going 10-of-13 at the line, while Cyphers chipped in with 19 and M.J. Rhett 18. Thornton led TSU with 11 rebounds, the most important coming at regulation end.
APSU held a 41-36 rebounding edge-only the second time during OVC play the Govs have out-rebounded an opponent.
This was the fourth time APSU has gone to overtime in league play, losing three.
Next Game
Austin Peay Men's Basketball takes on Belmont at home in the Dunn Center Saturday, February 9th. Tip off is at 7:30pm.
Photo Gallery
Box Score
Tennessee State vs Austin Peay
2/7/13 7:00pm at Clarksville, TN (Dunn Center)
Tennessee State 88
Total
3-point
Rebounds
##
Player
p
fgm-fga
fgm-fga
ftm-fta
off-def
tot
pf
tp
a
to
blk
stl
min

01

THORNTON, Kellen

f

3-8

1-2

2-2

4-7

11

5

9

1

3

1

0

36

33

COVINGTON, Robert

f

4-9

0-2

2-2

2-3

5

4

10

1

0

2

1

17

04

RHETT, M.J.

c

7-8

0-0

4-4

1-6

7

4

18

3

4

0

1

32

02

MILLER, Patrick

g

7-15

1-3

10-13

1-4

5

3

25

7

2

0

4

43

45

CYPHERS, Jordan

g

7-15

3-9

2-3

0-2

2

1

19

1

2

1

4

39

10

DOCKERY, Deshawn

–

2-4

1-3

2-2

0-3

3

3

7

3

4

0

0

33

22

FREDRICK, Tashan

–

0-1

0-0

0-0

0-0

0

0

0

0

0

0

2

8

24

McCLUNG, Devante

–

0-0

0-0

0-0

1-1

2

1

0

0

0

0

0

4

32

WELLIAN, Chaed

–

0-0

0-0

0-0

0-0

0

0

0

0

0

0

0

2

44

GREEN, Michael

–

0-1

0-0

0-0

0-1

1

4

0

0

1

0

0

11

TM

TEAM

–

–

–

–

0-0

0

–

–

–

–

–

–

–

Totals…………..

–

30-61

6-19

22-26

9-27

36

25

88

16

16

4

12

225

49.2%

31.6%

84.6%

Team summary:
FG
3FG
FT
1st Half:

12-28

4-9

8-11

42.9%

44.4%

72.7%

2nd Half:

12-26

1-9

6-6

46.2%

11.1%

100 %

Overtime:

6-7

1-1

8-9

85.7%

100 %

88.9%
Austin Peay 82
Total
3-point
Rebounds
##
Player
p
fgm-fga
fgm-fga
ftm-fta
off-def
tot
pf
tp
a
to
blk
stl
min

10

TRIGGS, Will

f

8-20

0-0

2-6

6-5

11

1

18

5

0

0

4

43

25

CAMPBELL, Anthony

f

4-10

0-5

7-8

3-5

8

1

15

0

4

0

1

33

05

HORTON, Chris

c

3-5

0-0

1-2

3-3

6

4

7

0

2

0

1

25

01

CLYBURN, Jerome

g

2-4

2-3

0-0

0-0

0

4

6

2

1

0

1

20

04

BETRAN, Travis

g

9-17

4-9

6-6

0-2

2

4

28

3

4

0

2

41

12

PURVIS, Jeremy

–

0-1

0-1

0-0

0-0

0

0

0

0

0

0

0

4

15

FREEMAN, Chris

–

1-2

0-0

0-3

0-0

0

1

2

0

1

1

0

8

20

ARENTSEN, Cory

–

0-2

0-2

0-0

0-2

2

0

0

0

0

0

0

8

21

HERRING, Preston

–

0-0

0-0

0-0

1-2

3

0

0

0

2

0

0

12

22

LAWRENCE, Herdie

–

2-5

1-3

1-2

2-2

4

4

6

1

2

1

0

24

23

LYNCH, AJ

–

0-1

0-0

0-0

0-1

1

0

0

0

1

0

0

4

33

HASSE, Matt

–

0-0

0-0

0-0

0-2

2

0

0

0

0

0

0

3

TM

TEAM

–

–

–

–

2-0

2

–

–

–

–

–

–

–

Totals…………..

–

29-67

7-23

17-27

17-24

41

19

82

11

17

2

9

225

43.3%

30.4%

63.0%

Team summary:
FG
3FG
FT
1st Half:

13-34

2-9

8-11

38.2%

22.2%

72.7%

2nd Half:

11-23

4-12

5-10

47.8%

33.3%

50.0%

Overtime:

5-10

1-2

4-6

50.0%

50.0%

66.7%
| | | | | | |
| --- | --- | --- | --- | --- | --- |
| Score by Periods | 1st | 2nd | OT | Total | |
| Tennessee State | 36 | 31 | 21 | 88 | Record: (14-10 (8-3 OVC)) |
| Austin Peay | 36 | 31 | 15 | 82 | Record: (5-19 (1-9 OVC)) |
Officials: Andrew Walton(R), Rick Shoulders, Cory Gammon
Technical fouls: Tennessee State-None. Austin Peay-None.
Attendance: 2186
Player of the Game: Travis Betran
Sections
Sports
Topics
Anthony Campbell, APSU, APSU Athletics, APSU Basketball, APSU Dunn Center, APSU Men's Basketball, APSU Sports, Austin Peay State University, Belmont, Clarksville TN, Governors, Govs, herdie Lawrence, Kellen Thornton, Murray State, Ohio Valley Conference, OVC, Patrick Miller, Robert Covington, Tennessee State, Tigers, Travis Betran, Will Triggs