APSU Sports: Austin Peay Men's Tennis

Chattanooga, TN – Austin Peay State University men's tennis team picked up its first victory of the dual season, Friday, against Chattanooga. The Govs 4-3 win moves them to 1-2 on the season.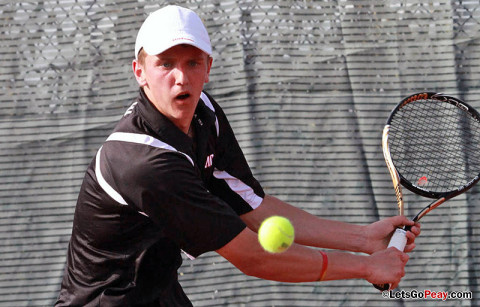 "Very pleased with how we played today," said head coach Ross Brown, who picked up his first victory as coach of the Govs. "Chattanooga has fared very well against our conference, so it was good to see that we stack up well against a team like that."
Austin Peay got a huge lift from the top of the table, winning three of the top four singles draws. Senior Sean Bailey defeated Roberto Vieira 7-6, 6-4 in No. 1 singles, while sophomores Dimitar Ristovski (6-4, 6-4) and Aleksas Tverijonas (6-3, 6-3) took the No. 3 and No. 4 matches, respectively.
Junior Jasmin Ademovic suffered his season's first loss in No. 2 singles, a 4-6, 7-5, 4-6 loss to Manuel Barroetavena. Sophomore Iago Seffrin (1-6, 4-6) and freshman Evan Borowski (0-6, 2-6) dropped the No. 5 and No. 6 matches.
The doubles point carried the Govs. After dropping the first match, the No. 2 pairing of Ristovski and Seffrin against Barroetavena and Jackson Tresnan (2-8), Austin Peay rebounded with wins in No. 1 and No. 3 doubles. Tverijonas and senior John Storie took the No. 3 point (8-4), while Bailey and Ademovic secured the No. 1 point with an 8-6 victory.
"We continue to play well in doubles," Brown said. "Overall, we're doing a lot better in maintaining our composure and letting things drop when they don't go our way."
The Govs are back on the court Saturday at the Austin Peay Tennis Center with a 1:00pm match against top Division II foe Abilene Christian.
Singles competition
1. BAILEY, Sean (APSU) def. Roberto Vieira (UTC) 7-6, 6-4
2. Manuel Barroetavena (UTC) def. ADEMOVIC, Jasmin (APSU) 6-4, 5-7, 6-4
3. RISTOVSKI, Dimitar (APSU) def. Chris Smith (UTC) 6-4, 6-4
4. TVERIJONAS, Aleksas (APSU) def. Ankit Chopra (UTC) 6-3, 6-3
5. Pavels Grigorjevs (UTC) def. SEFFRIN, Iago (APSU) 6-1, 6-4
6. Jackson Tresnan (UTC) def. BOROWSKI, Evan (APSU) 6-0, 6-2
Doubles competition
1. ADEMOVIC, Jasmin/BAILEY, Sean (APSU) def. Roberto Vieira/Chris Smith (UTC) 8-6
2. Manuel Barroetavena/Jackson Tresnan (UTC) def. RISTOVSKI, Dimitar/SEFFRIN, Iago (APSU) 8-2
3. STORIE, John/TVERIJONAS, Aleksas (APSU) def. Ankit Chopra/Stephen Crofford (UTC) 8-4
Match Notes
Austin Peay 1-2
Chattanooga 4-2
Order of finish: Doubles (2,3,1); Singles (3,4,2,1,6,5)
T-3:52 A-75