APSU Sports: Austin Peay Women's Tennis

Evansville, IN – Austin Peay State University women's tennis team showed marked improvement at the Tri-State Athletic Club, Saturday, against Evansville. Although the Lady Govs fell to 0-3 on the season, the 5-2 loss was a step in the right direction for head coach Ross Brown's squad.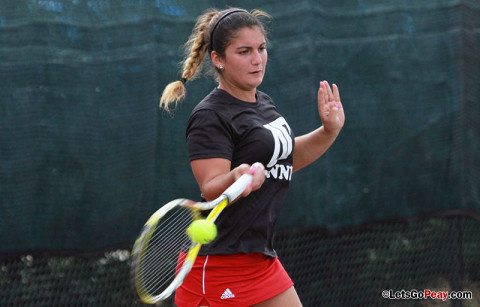 Sophomores Ornella Di Salvo and Vanessa Tavares secured their season's first singles victories. Di Salvo, the Lady Govs No. 2 player, defeated Evansville's Mina Milovic in straight sets (6-4, 6-3). Tavares picked up the victory over Marina Moreno in No. 4 singles, 6-3, 6-4, to account for the Lady Govs two Saturday points.
Tavares and sophomore Alison Carre also got a win in No. 2 doubles, defeating Moreno and Kelsey Costales in an epic 8-7 battle. The Lady Govs were unable to secure the doubles point, dropping the No. 1 match 8-6 and the No. 3, 8-3.
In other singles action, Carre lost 6-2, 6-4 to Natasha James in the top match. Junior Andra Cornea and sophomores Jovana Karac and Julie Covington were also dealt losses, Saturday.
After a whirlwind two days of competition this weekend, Austin Peay has an 11-day break before resuming competition with a Wednesday, February 20th match against Middle Tennessee at the Austin Peay Tennis Center.
Singles competition
1. Natasha James (UE) def. CARRE, Alison (APSUW) 6-2, 6-4
2. DI SALVO, Ornella (APSUW) def. Mina Milovic (UE) 6-4, 6-3
3. Marketa Trousilova (UE) def. CORNEA, Andra (APSUW) 6-3, 6-3
4. TAVARES, Vanessa (APSUW) def. Marina Moreno (UE) 6-3, 6-4
5. Gaby Fifer (UE) def. KARAC, Jovana (APSUW) 6-2, 6-3
6. Emily Richardson (UE) def. COVINGTON, Julie (APSUW) 6-1, 6-0
Doubles competition
1. Natasha James/Marketa Trousilova (UE) def. DI SALVO, Ornella/CORNEA, Andra (APSUW) 8-6
2. CARRE, Alison/TAVARES, Vanessa (APSUW) def. Kelsey Costales/Marina Moreno (UE) 8-7
3. Gaby Fifer/Emily Richardson (UE) def. COVINGTON, Julie/KARAC, Jovana (APSUW) 8-3