APSU Sports: Austin Peay Men's Basketball

Charleston, IL – Anthony Campbell scored 24 points, including four second-half three pointers, and Chris Horton recorded a double-double as Austin Peay State University held off Eastern Illinois, 71-64, Thursday night in Ohio Valley Conference basketball action in Lantz Arena.

The victory snapped an eight-game losing streak and put the Govs at 6-20 overall and 2-10 in the OVC. It also was the Governors first road win this season.

Playing in front of a sparse crowd, Eastern Illinois fell to 7-19 overall and 4-9 in the OVC.

Austin Peay led from the outset, in fact, never trailing in the game. The Govs scored the game's first eight points and built as much as a 12-point first-half lead. The Govs entered intermission leading by 10, 28-18, despite the fact leading scorer Travis Betran had zero points and third-leading scorer Will Triggs had two.

Campbell, with nine, and Jeremy Purvis and Horton each with six helped the Govs to the halftime lead along with a defense that limited the Panthers to 8-of-28 shooting (29 percent).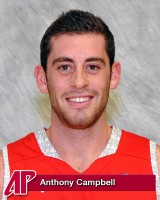 But Campbell and Horton helped put some significant distance between the two teams early in the second half. APSU scored the first nine points to go up 37-18 before Alex Austin snapped the EIU drought with a three.
But Campbell answered with his second three of the half and after a mini-EIU run cut the lead back to 16, Campbell and Jeremy Purvis hit back-to-back three to put the lead at 22, 46-24.
But Eastern Illinois would not go quietly. The Govs, who have had the propensity of losing late second-half leads, began to squander a 16-point advantage in the final 2:05. Missed free throws and a trio of turnovers-the Govs had 18 on the night-had APSU up by just seven, 62-55, with 1:02 left.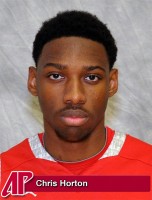 But Betran, who had just five points on the night, continued his incredible OVC free-throw shooting by making two straight to push it to nine, 64-55, with 42 seconds left. Eastern Illinois' Austin hit a three with 16 seconds left to make it a five-point game but freshman Cory Arensten made two free throws with 13 ticks remaining to end any doubt.
Campbell finished the night 5-of-7 from three point line while also dishing out three assists. Horton ended with 14 points on 6-of-9 shooting while tallying his sixth double-double grabbing 10 rebounds.
Purvis, who had relinquished the point guard duties back to senior Jerome Clyburn, added a career-best 11 points on a perfect 3-for-3 shooting night.
Morris Woods, who came on strong in the second half, led EIU with 24 points while Austin, battling Horton for the OVC's top freshman honor, added 20.
Next Game
Austin Peay Men's Basketball are on the road Saturday, February 16 to take on SIU Edwardsville. Tip off is at 7:00pm.
Box Score
Austin Peay vs Eastern Illinois
02/14/13 7:00pm at Charleston, IL (Lantz Arena)
Austin Peay 71
Total
3-point
Rebounds
##
Player
p
fgm-fga
fgm-fga
ftm-fta
off-def
tot
pf
tp
a
to
blk
stl
min

10

TRIGGS, Will

f

2-5

0-0

2-5

3-2

5

2

6

2

6

1

1

27

25

CAMPBELL, Anthony

f

7-13

5-7

5-7

2-2

4

1

24

3

3

0

1

36

05

HORTON, Chris

c

6-9

0-0

2-2

4-6

10

3

14

0

4

2

2

30

01

CLYBURN, Jerome

g

0-3

0-1

0-0

1-2

3

0

0

4

0

0

0

18

04

BETRAN, Travis

g

1-7

1-5

2-2

0-0

0

3

5

2

1

1

0

30

12

PURVIS, Jeremy

–

3-3

2-2

3-3

0-4

4

1

11

1

1

0

1

22

15

FREEMAN, Chris

–

1-2

0-0

0-0

2-1

3

3

2

1

2

1

0

12

20

ARENTSEN, Cory

–

1-2

1-2

4-6

0-3

3

1

7

2

1

0

0

15

21

HERRING, Preston

–

1-2

0-0

0-0

1-1

2

0

2

1

0

0

1

10

TM

TEAM

–

–

–

–

1-1

2

–

–

–

–

–

–

–

Totals…………..

–

22-46

9-17

18-25

14-22

36

14

71

16

18

5

6

200

47.8%

52.9%

72.0%

Team summary:
FG
3FG
FT
1st Half:

11-25

3-7

3-4

44.0%

42.9%

75.0%

2nd Half:

11-21

6-10

15-21

52.4%

60.0%

71.4%
Eastern Illinois 64
Total
3-point
Rebounds
##
Player
p
fgm-fga
fgm-fga
ftm-fta
off-def
tot
pf
tp
a
to
blk
stl
min

15

BLANFORD, Sherman

f

1-5

0-0

3-4

3-3

6

3

5

2

2

0

1

27

55

PIPER, Josh

f

2-11

1-5

1-1

1-1

2

1

6

1

2

1

1

25

20

WOODS, Morris

g

11-21

0-1

2-4

5-3

8

3

24

1

1

0

1

30

21

AKERS, Austin

g

0-5

0-3

0-2

1-0

1

2

0

4

1

0

1

31

22

JONES, Taylor

g

1-2

1-2

0-0

1-3

4

5

3

1

3

0

0

27

02

LUBSEY, Alex

–

0-0

0-0

0-0

0-0

0

0

0

0

0

0

0

1

05

HERRON, Malcolm

–

1-5

0-4

0-0

0-0

0

1

2

1

0

0

0

10

12

ANDERSON, Keenan

–

1-1

0-0

0-0

2-0

2

2

2

0

1

0

1

14

24

HARVEY, Cameron

–

1-2

0-1

0-0

0-1

1

1

2

0

0

0

0

9

31

AUSTIN, Alex

–

7-10

4-6

2-3

1-3

4

2

20

2

1

0

3

26

TM

TEAM

–

–

–

–

2-1

3

–

–

–

–

–

–

–

Totals…………..

–

25-62

6-22

8-14

16-15

31

20

64

12

11

1

8

200

40.3%

27.3%

57.1%

Team summary:
FG
3FG
FT
1st Half:

8-28

2-12

0-0

28.6%

16.7%

0.0%

2nd Half:

17-34

4-10

8-14

50.0%

40.0%

57.1%
| | | | | |
| --- | --- | --- | --- | --- |
| Score by Periods | 1st | 2nd | Total | |
| Austin Peay | 28 | 43 | 71 | Record: (6-20 (2-10 OVC)) |
| Eastern Illinois | 18 | 46 | 64 | Record: (7-19 (4-9 OVC)) |
Officials: Steve Divine, Brandon Pipkin and Wil Howard
Technical fouls: Austin Peay-None. Eastern Illinois-None. Attendance: 444
Ohio Valley Conference contest … 38th meeting between Panthers & Governors
Sections
Sports
Topics
Anthony Campbell, APSU, APSU Athletics, APSU Basketball, APSU Men's Basketball, APSU Sports, Austin Peay State University, Charleston IL, Chris Horton, Eastern Illinois, Governors, Govs, Jeremy Purvis, Jerome Clyburn, Lantz Arena, Ohio Valley Conference, OVC, Panthers, SIU Edwardsville, Travis Betran, Will Triggs