APSU Sports: Austin Peay Men's Basketball

Richmond, KY – Eastern Kentucky buried nine first-half three pointers and in the process ended Austin Peay State University's hopes of an Ohio Valley Conference as the Colonels rolled to a 91-53 victory, Wednesday night, at McBrayer Arena.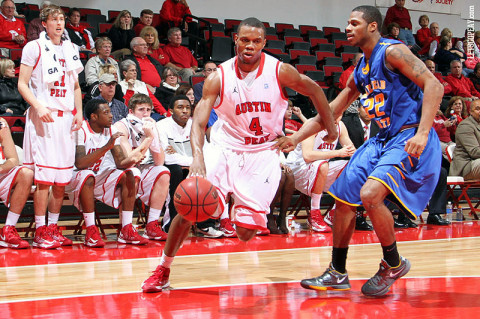 The Governors modest two-game losing streak ended as they fell to 3-11 in the OVC and 7-21 overall. As a result of the loss, the Governors will not be participating in the OVC post-season tournament for the first time in 29 years.
Eastern Kentucky, arguably the league's hottest team, won for the sixth straight time, pushing its OVC mark to 11-3 in the OVC and 22-6 overall.
After the Governors got off to fast starts in their previous two games, it was Eastern Kentucky who came out firing in this game. The Colonels jumped out to a 14-4 lead, using a trio of three pointers. But the Governors found away to hang in there and cut their deficit to six, 20-14, but a confluence of factors led to the Govs undoing. First freshman center Chris Horton picked up his second foul and then Travis Betran, who had six early points, stepped on a defender's foot, with his leg buckling underneath him and forcing him to leave the game.
As a result, the Colonels went on a 19-1 run and never looked back.
The Govs fell behind by as much as 24 in the opening half but cut it to 15 before going into halftime down 47-28 as EKU finished the half 9-of-16 from three-point range.
APSU's Anthony Campbell opened the second half with his only three pointer, cutting the deficit to 16, but then it was all EKU, especially on the defensive end as Colonel point guard Mike Dinunno totally disrupted APSU's offense. He forced APSU point guards into 10 turnovers while collecting six steals and dishing out nine assists. The Governors committed 21 turnovers in the contest-their highest turnover number in league play.
A pair of EKU newcomers, Glenn Cosey and Corey Walden, led the Colonels with 17 and 15 points respective. The Colonels shot 60 percent from the floor in the second and 57 percent overall for the game.
Box Score
Austin Peay vs Eastern Kentucky University
02/20/13 7:00pm at Richmond, KY (McBrayer Arena)
Austin Peay 53
Total
3-point
Rebounds
##
Player
p
fgm-fga
fgm-fga
ftm-fta
off-def
tot
pf
tp
a
to
blk
stl
min

10

TRIGGS, Will

f

4-8

0-0

1-2

3-3

6

2

9

3

2

0

1

33

25

CAMPBELL, Anthony

f

3-11

1-8

0-0

0-2

2

1

7

1

2

0

0

23

05

HORTON, Chris

c

1-4

0-0

0-0

2-3

5

2

2

1

0

1

0

19

01

CLYBURN, Jerome

g

2-3

0-1

4-4

0-1

1

2

8

0

3

0

1

22

04

BETRAN, Travis

g

5-9

3-5

0-0

0-2

2

1

13

2

3

0

0

30

11

GREER, Thomas

–

0-1

0-0

4-4

0-0

0

1

4

0

2

0

0

5

12

PURVIS, Jeremy

–

0-2

0-1

1-2

1-0

1

1

1

3

0

0

0

11

15

FREEMAN, Chris

–

1-4

0-0

0-0

2-3

5

1

2

0

2

1

0

14

20

ARENTSEN, Cory

–

0-2

0-2

0-0

1-1

2

0

0

1

0

0

1

11

21

HERRING, Preston

–

1-1

0-0

1-3

1-1

2

0

3

1

0

1

0

12

22

LAWRENCE, Herdie

–

1-3

1-3

0-0

0-1

1

2

3

0

1

1

0

7

23

LYNCH, AJ

–

0-1

0-1

1-2

0-1

1

1

1

1

6

1

0

10

24

HARMS, Joe

–

0-0

0-0

0-0

0-0

0

0

0

0

0

0

0

3

TM

TEAM

–

–

–

–

1-2

3

–

–

–

–

–

–

–

Totals…………..

–

18-49

5-21

12-17

11-20

31

14

53

13

21

5

3

200

36.7%

23.8%

70.6%

Team summary:
FG
3FG
FT
1st Half:

12-22

3-10

1-3

54.5%

30.0%

33.3%

2nd Half:

6-27

2-11

11-14

22.2%

18.2%

78.6%
Eastern Kentucky University 91
Total
3-point
Rebounds
##
Player
p
fgm-fga
fgm-fga
ftm-fta
off-def
tot
pf
tp
a
to
blk
stl
min

42

STUTZ, Eric

f

3-6

0-0

1-2

1-3

4

2

7

1

0

0

0

20

00

COSEY, Glenn

g

7-12

3-5

0-0

0-2

2

3

17

3

0

0

0

34

02

WALDEN, Corey

g

5-8

1-3

4-5

1-3

4

3

15

2

1

0

1

29

03

DiNUNNO, Mike

g

3-8

1-4

0-0

0-7

7

3

7

9

3

0

6

34

34

JOHNSON, Tarius

g

4-5

1-2

3-3

1-2

3

3

12

3

1

0

0

18

11

BABB-HARRISON,Jaylen

–

1-2

0-1

4-4

0-1

1

0

6

0

0

0

0

3

12

LEWIS, Marcus

–

4-6

0-1

1-1

0-0

0

1

9

1

2

0

0

22

21

STENZEL, Robbie

–

0-0

0-0

0-0

0-2

2

0

0

2

0

0

0

3

22

KNIPP, Timmy

–

3-4

2-3

0-0

2-0

2

2

8

0

0

2

2

14

23

PARSONS, Ryan

–

1-3

1-3

0-0

0-0

0

0

3

0

0

0

0

3

24

JOHNSON, Jeff

–

3-3

1-1

0-0

0-1

1

1

7

0

1

0

0

13

33

MUFF, Deverin

–

0-1

0-0

0-0

0-1

1

0

0

0

0

0

1

7

TM

TEAM

–

–

–

–

0-0

0

–

–

–

–

–

–

–

Totals…………..

–

34-58

10-23

13-15

5-22

27

18

91

21

8

2

10

200

58.6%

43.5%

86.7%

Team summary:
FG
3FG
FT
1st Half:

16-28

9-16

6-7

57.1%

56.3%

85.7%

2nd Half:

18-30

1-7

7-8

60.0%

14.3%

87.5%
| | | | | |
| --- | --- | --- | --- | --- |
| Score by Periods | 1st | 2nd | Total | |
| Austin Peay | 28 | 25 | 53 | Record: (7-21 (3-11 OVC)) |
| Eastern Kentucky University | 47 | 44 | 91 | Record: (22-6 (11-3 OVC)) |
Officials: Jeb Hartness (r), Alfred Smith, Rick Shoulders
Technical fouls: Austin Peay-None. Eastern Kentucky University-None.
Attendance: 3400