APSU Sports: Austin Peay Women's Tennis

Clarksville, TN – After a strong start in doubles, Austin Peay State University women's tennis team couldn't keep it together against Middle Tennessee, Wednesday, at the Austin Peay Tennis Center.
The Lady Govs fell to the Blue Raiders, 6-1, in their season's first home indoor match.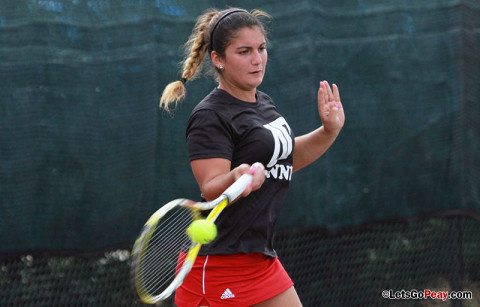 The Lady Govs grabbed an early lead, taking the doubles point for the first time this season. Sophomore Ornella Di Salvo and junior Andra Cornea won the No. 1 match, against Carla Nava and Yuiri Nomoto, 8-4. Sophomores Alison Carre and Vanessa Tavares secured the point by defeating MTSU's Nayara Moraes and Irina Constantinide, 8-5.
"Our doubles play has been very encouraging," said head coach Ross Brown. "We moved a couple of things around and seen some good results."
The singles matches were much less successful, with Austin Peay (0-4) dropping all six singles matches. Carre was the only Lady Gov to force a third set, before she fell 2-6, 7-6, 3-6 to Nomoto in No. 1 singles. Middle Tennessee moves to 4-5 on the season.
"Alison played a strong match at the top spot," Brown said. "We've really come along, even though our record doesn't indicate it. All the teams we've played so far are very strong. We've just got to play a whole match; once we do that, we'll start getting some victories."
The Lady Govs continue a busy week, with matches at Southern Illinois (Friday) and a home match against Southern Indiana (Saturday) remaining on this week's schedule.