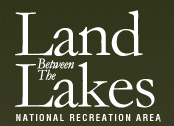 Golden Pond, KY – Land Between The Lakes (LBL) National Recreation Area begins its 2013 operations on Friday, March 1st, by opening several popular visitor attractions.
The Homeplace, Woodlands Nature Station, and North and South Welcome Stations open their doors March 1st, along with Energy Lake, Hillman Ferry and Piney Campgrounds. The Homeplace, Woodlands Nature Station, and North and South Welcome Stations will be open Wednesday through Sunday during March, then open seven days a week beginning April 1st.
The Homeplace and Nature Station also have new operating hours of 10:00am-5:00pm. North and South Welcome Stations, along with the Golden Pond Visitor Center, are open 9:00am-5:00pm with the exception of extended hours, 10:00am-7:00pm, on Fridays, May 17th-September 2nd.
The Elk and Bison Prairie remains open from dawn until dusk every day, year-round. The Golden Pond Visitor Center and Planetarium, Wranglers Campground, and Turkey Bay Off-Highway Vehicle Area remain open year-round as well.
New for 2013 at Land Between The Lakes is the opening of two new nature viewing sites within the Woodlands Nature Watch Area located east of the Woodlands Trace National Scenic Byway, near Nature Station and Taylor Bay. "Empire Point and Bobcat Point are now available for wildlife viewing," stated Darrin Samborski, Environment Education Specialist at LBL. "Both locations offer views of the water and the opportunity to get out and explore. Each season brings something different. You will find waterfowl and eagles in the winter, migratory songbirds from spring through fall, plus deer, turkey, and many other species that can be seen year-round. These areas are for day-use only and offer a "park and walk" experience, so bring your cameras and binoculars."
Golden Pond Planetarium provides a full-dome viewing experience complete with state-of-the-art digital multimedia equipment. Visit www.lbl.org or call 270.924.2237 for show schedule. Come join us for an exciting glimpse of the night skies filled with celestial objects, constellations, and more!
LBL's Spring Calendar of Events is full of a variety of fun programs for visitors of all ages and interests. The popular Discount Package, which offers approximately a 30% discount on admission to multiple attractions, and the LBL Fun Card, a discount opportunity that primarily benefits area residents and others who frequent the area, are available again this year. The LBL Fun Card does not expire and provides your choice of 10 admissions to The Homeplace, Nature Station, Planetarium, or a combination of all three.
[320left[Land Between The Lakes honors the America the Beautiful National Parks and Federal Recreational Lands Access and Senior Passes as well as the new Military Pass. With the Access and Senior Passes, a 50% discount is offered to the card holder for basic campsites and general admission to The Homeplace, Nature Station, and Golden Pond Planetarium.
The Military Pass offers active duty military service members or their spouse and three additional guests free general admission to The Homeplace, Nature Station, and Golden Pond Planetarium.
Come Outside and Play at Land Between The Lakes National Recreation Area. Managed by the Forest Service, U.S. Department of Agriculture, Land Between The Lakes provides outdoor recreation, lake access, and environmental education for the public to enjoy.
Visitors are encouraged to review the official website at www.lbl.org often for Calendar of Events, updates on programs and policies, safety information, maps, temporary trail and road closures, and additional information, or call 800.LBL.7077 or 270.924.2000. Follow LBL on Twitter @LBLScreechOwl or @LandBtwnLakes.