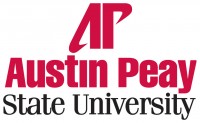 Clarksville, TN – The Austin Peay State University dance minor is only seven years old, but from February 27th through March 3rd, the program's faculty and students plan to unveil just how far they've come in the last few years.
At 7:30pm throughout that week, and at 2:00pm on that Sunday, the APSU Area of Theatre and Dance will present its annual dance concert, "Out on a Limb," in the Trahern Theater.
The program will feature three dances choreographed by dance faculty and four pieces choreographed by students. Marcus Hayes, associate professor of dance, will present two new works that evening – a classical jazz dance featuring a predominantly female cast, and a powerful modern piece, "Innermost Layer," which uses male dancers to comment on roles people adopt in society.
Margaret Rennerfeldt, assistant professor of dance, will premiere the first ballet ever choreographed by the department.
"I felt like it was time, and the students were ready," she said. "It's a classical ballet danced to Vivaldi, and it's not abstract; there's nothing narrative about it. It's really just a beautiful ballet."
The show's student pieces will represent some of the top work coming out of the program. Students had to submit works they choreographed to a panel of judges last fall.
"The pieces were work-shopped and adjudicated by the dance faculty, and we chose four of those dances to be fully produced on the main stage," Rennerfeldt said. "The caliber of work has really increased here."
Two of the student pieces, along with Hayes' "Innermost Layer" dance, were also selected for performances at the American College Dance Festival's regional conference in March.
Tickets to the concert are $5.00 for students and $10.00 for adults.
For more information, contact the APSU Area of Theatre and Dance at 931.221.6767. To purchase tickets online, visit www.austinpeaytickets.com.