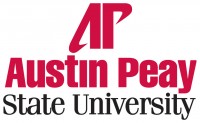 Clarksville, TN – In the early 1770s, the American naturalist William Bartram headed south to explore the pristine, untouched region that would soon become known as the Southeastern United States of America.
Instead of forests and farms, he discovered wide, grassy savannahs spreading across Georgia and Alabama. He jotted down details of this terrain and drew pictures of the land in his notebook.
Bartram's journals provide a snapshot of the beauty and splendor of this region before European settlement changed the ecosystem forever.
It's a lost world he describes, and for the last several years, the environmental landscape artist Philip Juras has used Bartram's writings to reimagine this world in his paintings. The works speak of the need to preserve natural habitats.
At 11:15am on February 25th, Juras will visit Austin Peay State University's Sundquist Science Complex, room E-106A as part of the APSU Center of Excellence for Field Biology and the APSU Department of Biology's Honors Seminar program.
The event is being co-sponsored by the APSU Center of Excellence for the Creative Arts. His lecture, "Is a Picture Worth a Thousand Fires?" will address the lost phenomena of frequently recurring wild land fires that once served as an integral part of southeastern ecology.
"Philip (Juras) combines his passion for historical ecology and oil painting, and was inspired by 19th century American landscape painters like Albert Bierstadt and Thomas Moran, whose work paved the way for major conservation initiatives in the American West," Dr. Dwayne Estes, APSU associate professor of biology, said. "Philip has wide appeal not only to folks in the biology and art programs, but I could see his seminar appealing to almost anyone on campus or the local community. You don't have to be an artist or a biologist to appreciate and really be inspired by his message."
Juras lives in Augusta, GA, and received his Bachelor of Fine Arts and his Master of Landscape Architecture from the University of Georgia. His work has been exhibited at the Telfair Academy in Savannah, GA, and the Morris Museum of Art in Augusta. He has also published the book "Philip Juras: The Southern Frontier. Landscapes Inspired by Bartram's Travels."
For more information on this seminar, which is free and open to the public, contact the APSU Center of Excellence for Field Biology at 931.221.7019.