Lynchburg, VA – Overtime and Austin Peay State University basketball just don't mix.
After Travis Betran's long three pointer tied the game and the Govs defense denied Liberty at regulation's end, the Governors year-long free-throw shooting woes caught up with them in overtime as Liberty held off APSU, 79-73, in the ESPN Ramada Worldwide BracketBusters contest at the Vines Center.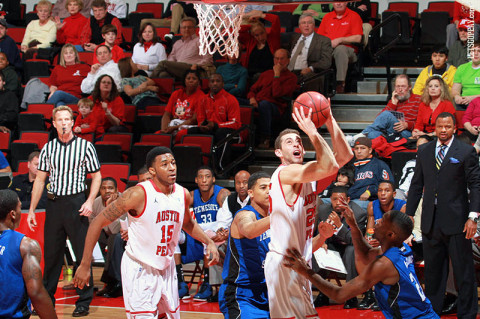 It was APSU's fourth overtime defeat in five extra-session games. It also left the Governors 3-7 all-time record representing the Ohio Valley Conference in the BracketBusters, which is ending this season. The Govs slipped to 7-22 on the season while Liberty, of the Big South, improved to 11-19.
After the Governors played an efficient first half, taking a 39-31 lead into halftime, they literally had trouble finding any offensive flow or defensive efficiency in the second half. After shooting 50 percent in the first half, the Govs barely shot 20 percent for much of the second.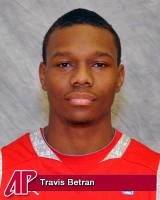 As a result, the Govs found themselves down by six with 3:02 remaining, but Betran, who had struggled all second half, found the range to cut the deficit in half. After Liberty missed inside, Betran again took control, driving to the hoop for a layup to make it a one-point game with 1:54 remaining. JR Coronado was able to throw away Will Triggs to grab an offensive rebound and scored with 1:15 left again to make it a three-point game with 1:15 left.
Jerome Clyburn's attempt to tie rattled in and out. With only three team fouls, APSU immediately fouled. They continued to do so during in-bounds plays if they could not get turnovers.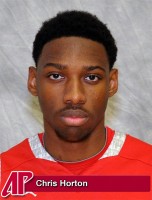 But that turnover finally came with 39 seconds left. After a Govs timeout, the play was set for Anthony Campbell to attempt to tie. However, the senior was covered and he dished it to Betran who tied the game from the deep left wing.
The Governors defense failed to allow Liberty to get a good look in the final 25 seconds, sending it to overtime.
APSU got the first chance to score in overtime as Chris Horton controlled the trip, but Will Triggs was fouled attempting to make a shot. He missed both free throws, starting a 1-of-6 overtime free-throw disaster while Liberty was a perfect 8-of-8.
Campbell led the Govs with 21 points, including a trio of three pointers . Betran added 18 on a tough 7-of-21 shooting night. Triggs added 12.
The Govs, who out-rebounded Liberty, 18-12, in the first half, finished the night on the downside of 41-39 margin, meaning they were out-rebounded 29-21 after intermission. Coronado finished with 18 grabs for the Flames, 12 after intermission.
Five Flames scored in double figures, led by Tavares Sparks' 18 and Davon Marshall's 16. However, it was 6-0 point guard John Caleb Sanders who controlled the second half and overtime. After owning two points, two points and one rebound in the opening half, he finished with 14 points, six assists and nine rebounds.
Next Game
Austin Peay Men's Basketball are back at home Thursday, February 28th to take on Southeast Missouri. Tip off is at 7:00pm at the Dunn Center.
Box Score
Austin Peay vs Liberty
02-23-13 4:00pm at Lynchburg, VA – Vines Center
Austin Peay 73
Total
3-point
Rebounds
##
Player
p
fgm-fga
fgm-fga
ftm-fta
off-def
tot
pf
tp
a
to
blk
stl
min

01

CLYBURN, Jerome

*

2-8

2-5

0-2

2-2

4

2

6

1

2

0

1

30

04

BETRAN, Travis

*

7-21

4-15

0-0

0-2

2

3

18

3

2

0

0

40

05

HORTON, Chris

*

4-10

0-0

1-4

5-3

8

1

9

2

2

5

0

38

10

TRIGGS, Will

*

5-9

0-0

2-4

1-7

8

3

12

1

2

0

0

37

25

CAMPBELL, Anthony

*

7-13

3-7

4-4

2-5

7

1

21

4

1

0

1

35

11

GREER, Thomas

–

0-1

0-0

0-0

0-0

0

0

0

0

0

0

0

12

12

PURVIS, Jeremy

–

0-1

0-1

0-0

0-1

1

1

0

2

0

0

1

3

15

FREEMAN, Chris

–

0-1

0-0

1-2

1-0

1

1

1

0

0

0

0

15

20

ARENTSEN, Cory

–

1-1

1-1

0-0

0-0

0

1

3

1

2

0

0

3

21

HERRING, Preston

–

1-3

0-0

1-2

3-0

3

0

3

0

0

0

0

5

22

LAWRENCE, Herdie

–

0-1

0-1

0-0

0-0

0

0

0

3

1

0

0

3

23

LYNCH, AJ

–

0-0

0-0

0-0

0-1

1

1

0

0

1

0

1

4

TM

TEAM

–

–

–

–

3-2

5

–

–

–

–

–

–

–

Totals…………..

–

27-69

10-30

9-18

17-23

40

14

73

17

13

5

4

225

39.1%

33.3%

50.0%

Team summary:
FG
3FG
FT
1st Half:

16-32

6-14

1-2

50.0%

42.9%

50.0%

2nd Half:

8-27

3-11

7-10

29.6%

27.3%

70.0%

Overtime:

3-10

1-5

1-6

30.0%

20.0%

16.7%
Liberty 79
Total
3-point
Rebounds
##
Player
p
fgm-fga
fgm-fga
ftm-fta
off-def
tot
pf
tp
a
to
blk
stl
min

01

MARSHALL, Davon

*

5-12

3-10

3-3

0-4

4

0

16

0

1

0

0

41

11

SMITH, Andrew

*

2-4

0-0

0-0

0-4

4

3

4

0

1

0

0

22

22

SPEAKS, Tavares

*

7-14

2-2

2-2

0-1

1

4

18

2

2

0

1

33

32

CORONADO, JR

*

4-8

0-0

2-2

5-13

18

4

10

1

1

2

1

37

33

SANDERS, John Caleb

*

6-13

0-2

2-5

3-6

9

2

14

6

4

0

1

36

03

ROBERTS, Casey

–

0-1

0-1

0-0

0-1

1

0

0

0

0

0

0

7

10

DONLEY, Chad

–

1-2

1-2

0-0

0-0

0

0

3

1

0

0

0

9

12

GIELO, Tomasz

–

5-9

0-3

2-2

0-0

0

3

12

3

3

1

1

29

13

TAYLOR, Larry

–

0-0

0-0

0-0

0-0

0

0

0

0

0

0

0

1

42

OGUKWE, Sommy

–

1-2

0-0

0-0

2-1

3

2

2

1

0

0

0

10

TM

TEAM

–

–

–

–

1-0

1

–

–

–

–

–

–

–

Totals…………..

–

31-65

6-20

11-14

11-30

41

18

79

14

12

3

4

225

47.7%

30.0%

78.6%

Team summary:
FG
3FG
FT
1st Half:

12-25

4-9

3-6

48.0%

44.4%

50.0%

2nd Half:

16-35

2-11

0-0

45.7%

18.2%

0.0%

Overtime:

3-5

0-0

8-8

60.0%

0.0%

100 %
| | | | | | |
| --- | --- | --- | --- | --- | --- |
| Score by Periods | 1st | 2nd | OT | Total | |
| Austin Peay | 39 | 26 | 8 | 73 | Record: (7-22, 3-11 OVC) |
| Liberty | 31 | 34 | 14 | 79 | Record: (10-19,5-9 BSC) |
Officials: Greg Rennegarbe (R), Ford Branch Jr., John Dillon
Technical fouls: Austin Peay-None. Liberty-None.
Attendance: 2678