Legislation regarding uninsured motorists clears first hurdle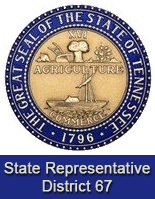 Nashville, TN – Tennessee State Representative Joe Pitts (D-Clarksville) filed House Bill 0431 (Senate Bill 0251), an important piece of legislation which would increase the penalty for driving without liability insurance.

The proposal would enhance the penalty from a Class C misdemeanor (punishable by a $100.00 fine) to a Class A misdemeanor (punishable by up to 11 months 29 days in jail and a fine of up to $2,500) when the offender is at fault for an accident resulting in bodily injury or death due to criminal negligence.

This legislation passed its first hurdle in the House Criminal Sub Committee this week and will be heard in the Criminal Full Committee on Wednesday, February 27th.

"I introduced this legislation because Richard and Mary Ann Brewster of Clarksville," said Pitts. "The Brewsters and another couple were struck by an uninsured motorist while riding their motorcycles last year."  Mr. Brewster received life threatening injuries and was transported to Vanderbilt University Medical Center, and almost a year later, is still recovering from his injuries.

The Brewsters appeared before the Criminal Subcommittee and while choking back tears, Mrs. Brewster told the subcommittee members that the person at fault essentially "murdered their life" by not only permanently disabling her husband but left them owing over $100,000 in medical bills. "Those driving on the roads of our state should be on notice," Pitts said. "If you drive without insurance and cause an accident that results in injury or death, you will pay a price."
Pitts proposes legislation to aid Military Personnel and Families
Higher Education Financial Help for Dependents of Military Personnel
Legislation has been filed to help dependents and spouses of our military personnel and soldiers also cleared the first hurdle this week. House Bill 0427 would change the eligibility criteria for the HOPE scholarships for dependent children of active military personnel.
Currently, the active duty soldier's "home of record" dictates dependent eligibility for the scholarship. As proposed, this legislation would allow the dependent to be eligible for the HOPE Lottery scholarship based on the "home of record" or if the child qualifies for in-state tuition at the time of enrollment.
House Bill 0426 also passed its first hurdle this week. This legislation creates a new scholarship program for dependents and spouses of certain disabled veterans. Both of these bills are scheduled to be heard in the House Education Full Committee on Tuesday, February 26th.
State Licensure Bill for Military Personnel
House Bill 0422, sponsored by Rep. Pitts passed the House State Subcommittee this week. This proposal would expedite issuance of certain professional licenses and temporarily extend certain licenses for active duty personnel that were deployed when their licenses came due for renewal. This bill is scheduled to be heard in the full House State Committee Tuesday, February 26th.
Other helpful legislation
A bill to help teachers with state-mandated exams moved closer to passage this week. Representative Gloria Johnson (D-Knoxville) moved legislation out of the House Education Committee, which would give teachers more time to take their praxis exams in order to be qualified to teach multiple subjects.
Representative Johnson, who is a school teacher, joined with fellow freshman legislator Representative Dawn White (R-Murfreesboro), to move this bill forward as quickly as possible to help teachers meet the requirement under the law.
Tennessee Commission on Aging and Disability coming to Clarksville
Pursuant to the Older Americans Act, the Tennessee Commission on Aging and Disability is required every five years to do a statewide needs assessment on aging issues and concerns. This process allows the Commission the chance to listen and learn from older Tennesseans and adults with disabilities as to their needs and problems.  That review culminates in a state plan that is then submitted to the federal government.
The Commission is scheduled in Clarksville on Tuesday, February 26th from 1:30pm to 3:30pm at the Ajax Turner Senior Citizens Center, 935 Clark Street. Should you have any questions, please call the Commission on Aging and Disability at 615.741.2056.
If you have questions about any item above or other issues of concern, please call me at 615.741.2043, or email me at
Sections
News
Topics
Ajax Turner Senior Citizens Center, Clark Street, Clarksville TN, Disabled Veterans, HOPE Lottery Scholarships, Joe Pitts, Nashville TN, Tennessee Commission on Aging and Disability, Tennessee House of Representatives District 67, Tennessee State Representative, Vanderbilt University Medical Center