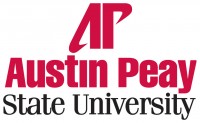 Clarksville, TN – The Austin Peay State University Department of Communication will hold its 10th AP Debate Forum from 6:00pm-8:00pm, Wednesday, March 6th in Clement Auditorium. The debate is free and open to the public.
The topic for this debate is "Resolved: Tennessee should enact a ban on assault weapons, in order to protect our children."
The AP Debate Forum focuses on issues related to students and the news in the world around them.
The Spring 2013 forum will ask students and audience members to consider and discuss positive and negative impacts of the topic. Four student debaters, selected during auditions for all students enrolled in Fundamentals of Public Speaking, will debate the topic first. Then students and audience members will have the opportunity to speak from the floor about the topic.
Throughout the debate, audience members and anyone from the community will have the opportunity to submit questions on the topic via Facebook and Twitter to be addressed by debaters and volunteer speakers from the audience.
Audience members are encouraged to bring their mobile devices to the debate. Facebook polls also will be conducted to determine the audience's position on the topic before and after the debate. This feedback is designed to demonstrate effectiveness of persuasive argumentation and changes in opinion.
Everyone is encouraged to like "AP Debate Forum" on Facebook and follow "#apdebateforum" on Twitter.
For more information, please contact Jessica Morris at morrisj@apsu.edu or 931.221.6824.