Written by Chris Austin
Clarksville Sports Network

Clarksville, TN –  Southeast Missouri put on a shooting exhibition in the first half, Thursday in the Dunn Center, scoring 65 points in the first 20 minutes of play on its way to defeating Austin Peay, 108-81.

It was the first 100-point game given up by Austin Peay (7-23, 3-12 OVC) at the Dunn Center since Morehead State scored 102 points in a 102-100 win versus the Governors back on January 20th 1992.

Nino Johnson missed the first shot of the game against Austin Peay, but the Redhawks hit 12 of its next 14 attempts from the floor – including making its first eight shots from behind the 3-point arc – to get out to a 22-point lead, 34-12.

Corey Wilford hit five of those 3s, finishing the first half with 20 points on 7-of-8 shooting overall and 6-of-7 of those being 3s.

Overall, Wilford finished with a game-high 26 points and tied the Dunn Center single game record for three-point field goals made by an opponent with eight.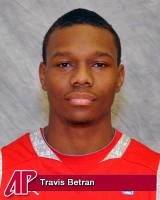 Southeast Missouri (15-15, 7-8 OVC) made 20 3s for the game, shattering the old Dunn Center record by an opponent by seven makes.
The total is also a new Ohio Valley Conference single-game record.
After the early burst by Southeast Missouri, the Governors never got any closer than 20 points, 34-14, the rest of the first half, with the Redhawks hitting 73.5 percent from the floor overall in the first half and led by as many as 35 points – including their advantage at intermission, 65-30.
On the other end of the floor, the Governors would struggle with it's shooting, finishing the opening half by hitting nine shots on 27 attempts – good for a 33.3 percent effort.
Austin Peay would play better in the second half – scoring 51 points by shooting 54.1 percent from the floor, but never got any closer than 27 points after intermission, with Southeast Missouri still shooting well at 57.7 percent from the floor.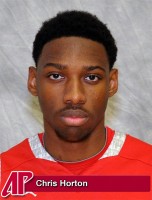 The loss is the eighth this season at the Dunn Center – the most in a season since the facility opened in 1975 — and marked the first time Southeast Missouri had swept the two-game season series against the Governors since the 1998-99 season.
Travis Betran led Governor scorers with 26 points, with Chris Horton chipping in with 12 points, while Will Triggs and Thomas Greer chipped in with 11 points each.
Along with Wilford's 26 points, Tyler Stone scored 20 points for SEMO – including making all eight of his shot attempts – while Nick Niemczyk added 19 points.
Austin Peay will close out its 2012-13 season Saturday versus UT Martin, in a 7:30pm contest.
Box Score
Southeast Missouri vs Austin Peay
2/28/13 7:00pm at Clarksville, TN (Dunn Center)
Southeast Missouri 108
Total
3-point
Rebounds
##
Player
p
fgm-fga
fgm-fga
ftm-fta
off-def
tot
pf
tp
a
to
blk
stl
min

01

JOHNSON, Nino

f

6-8

0-0

0-0

2-12

14

4

12

2

1

2

1

25

02

JONES, A.J.

f

3-3

0-0

1-2

0-4

4

4

7

5

1

0

0

13

04

WILFORD, Corey

g

9-13

8-12

0-0

0-2

2

3

26

3

3

0

0

27

13

NUTT, Lucas

g

0-2

0-1

0-0

0-3

3

1

0

9

3

0

2

29

23

SMITH, Marland

g

4-8

4-7

2-2

0-3

3

1

14

6

2

0

2

33

03

NIEMCZYK, Nick

–

7-14

5-10

0-0

0-3

3

0

19

4

0

0

4

30

10

FLOYD, Matt

–

0-0

0-0

0-0

0-0

0

0

0

0

0

0

0

1

15

TOLBERT, Jacob

–

0-0

0-0

0-0

0-0

0

1

0

0

0

0

0

3

24

WHITE, Jared

–

3-4

2-2

2-2

0-0

0

4

10

1

3

0

0

18

33

STONE, Tyler

–

8-8

1-1

3-4

0-5

5

4

20

1

1

1

1

18

41

FERGUSON, Colin

–

0-0

0-0

0-0

0-0

0

1

0

0

0

0

0

3

TM

TEAM

–

–

–

–

1-2

3

–

–

–

–

–

–

–

Totals…………..

–

40-60

20-33

8-10

3-34

37

23

108

31

14

3

10

200

66.7%

60.6%

80.0%

Team summary:
FG
3FG
FT
1st Half:

25-34

13-17

2-2

73.5%

76.5%

100 %

2nd Half:

15-26

7-16

6-8

57.7%

43.8%

75.0%
Austin Peay 81
Total
3-point
Rebounds
##
Player
p
fgm-fga
fgm-fga
ftm-fta
off-def
tot
pf
tp
a
to
blk
stl
min

10

TRIGGS, Will

f

5-9

0-0

1-7

1-2

3

3

11

2

0

0

1

26

20

ARENTSEN, Cory

f

1-2

0-1

1-1

0-0

0

0

3

1

0

0

1

19

05

HORTON, Chris

c

5-11

0-0

2-2

2-2

4

2

12

0

2

2

0

25

01

CLYBURN, Jerome

g

3-6

0-2

0-0

0-0

0

1

6

0

1

0

1

15

04

BETRAN, Travis

g

8-17

2-7

8-10

0-2

2

1

26

1

2

0

2

36

11

GREER, Thomas

–

4-6

1-3

2-2

1-1

2

1

11

2

1

0

0

20

12

PURVIS, Jeremy

–

1-2

1-1

0-0

0-1

1

0

3

2

0

0

0

11

15

FREEMAN, Chris

–

1-1

0-0

0-0

0-2

2

0

2

0

0

0

1

10

21

HERRING, Preston

–

1-6

1-3

0-2

0-4

4

3

3

0

1

1

0

16

22

LAWRENCE, Herdie

–

0-2

0-1

0-0

0-2

2

0

0

1

4

0

1

11

23

LYNCH, AJ

–

0-1

0-0

2-3

0-0

0

1

2

2

0

0

0

8

24

HARMS, Joe

–

0-1

0-0

2-2

1-0

1

0

2

0

0

0

0

1

33

HASSE, Matt

–

0-0

0-0

0-0

0-0

0

0

0

0

0

0

0

2

TM

TEAM

–

–

–

–

2-1

3

–

–

–

–

–

–

–

Totals…………..

–

29-64

5-18

18-29

7-17

24

12

81

11

11

3

7

200

45.3%

27.8%

62.1%

Team summary:
FG
3FG
FT
1st Half:

9-27

0-7

12-16

33.3%

0.0%

75.0%

2nd Half:

20-37

5-11

6-13

54.1%

45.5%

46.2%
| | | | | |
| --- | --- | --- | --- | --- |
| Score by Periods | 1st | 2nd | Total | |
| Southeast Missouri | 65 | 43 | 108 | Record: (15-15 (7-8 OVC)) |
| Austin Peay | 30 | 51 | 81 | Record: (7-23 (3-12 OVC)) |
Officials: Andrew Walton(R), Bret Smith, Todd Austin
Technical fouls: Southeast Missouri-None. Austin Peay-None.
Attendance: 1920
Player of the Game: Travis Betran
SEMO sets OVC record, opp. Dunn Center record for made 3pt FG (20)
SEMO #4 (Wilford) ties Dunn Center record for opp. made 3pt FG (8)
SEMO ties opp. Dunn Center record for total assists (31)
Sections
Sports
Topics
APSU, APSU Athletics, APSU Basketball, APSU Dunn Center, APSU Men's Basketball, APSU Sports, Austin Peay State University, Chris Horton, Clarksville TN, Corey Wilford, Governors, Govs, Morehead State, Nick Niemczyk, Nino Johnson, Ohio Valley Conference, OVC, Redhawks, Southeast Missouri, Thomas Greer, Travis Betran, Tyler Stone, UT-Martin, Will Triggs