Clarksville, TN – Chris Horton, who became only the fourth player in league history to record 100 single-season blocked shots, has been named Ohio Valley Conference Freshman of the Week.
It is the ninth time this season—the second most in OVC history—the Decatur, GA, native claimed the weekly freshman award.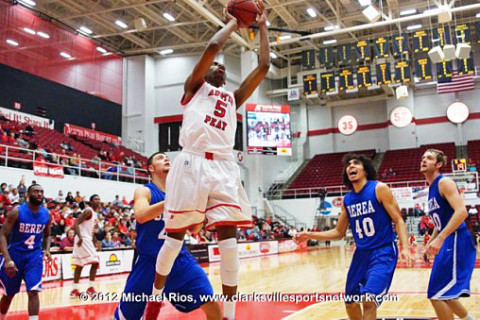 Horton ended his freshman campaign by tallying a pair of double-figure scoring performances against Southeast Missouri (12 points) and UT Martin (10 points) while grabbing 11 rebounds (5.5 rpg). On the weekend, Horton was credited with nine blocked shots, including seven in Saturday's season-ending victory against the Skyhawks.
It was the fourth time this season Horton had tallied seven single-game blocks, tying the mark originally set by John Fraley, March 3rd, 2011 against Southeast Missouri.
As a result, the 6-8 Horton became the first OVC player since Lorenzo Coleman in 1996-97 to finish with a 100-block season. His 100 blocks also tied for the fourth most single-season blocks in league history. on week, including seven against UTM. It was the fourth time this season he was credited with seven blocks on the season. His nine blocks on the week gave him 100 for the season, making him only the fourth player in OVC history to record 100 single-season blocks.
Horton finished his freshman season averaging 8.2 ppg, shooting 54 percent from the floor, while also grabbing 6.8 rpg. He has been ranked in the nation's Top 10 in blocks all season—currently sixth–averaging 3.23 blocks per contest.