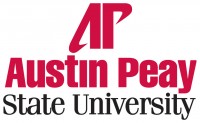 Clarksville, TN – The Austin Peay State University College of Business will hold its second Dean's Research Forum on March 21st.
The Dean's Research Forum will focus on student debt, complexity and total quality management. It will feature presentations of selected published scholarly contributions developed by APSU College of Business faculty members.
The forum will be held from 6:00pm-7:30pm, Thursday, March 21st in the Gentry Auditorium, located inside the Kimbrough Building.
The event is open to the public, especially to APSU and the business community. A reception will be held at the end of the forum.
Dr. Susan Cockrell, chair and assistant professor of accounting, finance and economics, will moderate the forum, which will include the following presenters from the College of Business:
— Cockrell, Pam Meyer and Niesha Wolfe, accounting instructors. Their paper is titled "From Debt to Career: Accounting Majors Burst Student Loan Bubble."
— Dr. Roger Clark, associate professor of accounting. His paper is titled "Nonlinear Properties, Complexity and Emergence in the Governance of the World Trade Organization."
— Cockrell and Dr. Dan Meyer, associate professor of accounting. They will present a paper, titled "The Role of the Management Accountant in Total Quality Management."
Each presentation will include a question-and-answer session from the audience.
Full papers are available online at http://www.apsu.edu/business/research-forum.