Clarksville, TN – Another day, another set of national honors for a pair of Austin Peay State University baseball players. Senior outfielder Cody Hudson was named the Louisville Slugger National Player of the Week by CollegeBaseballInsider.com, Wednesday. In addition, senior closer Tyler Rogers was named the Central Region Pitcher of the Week by the same website.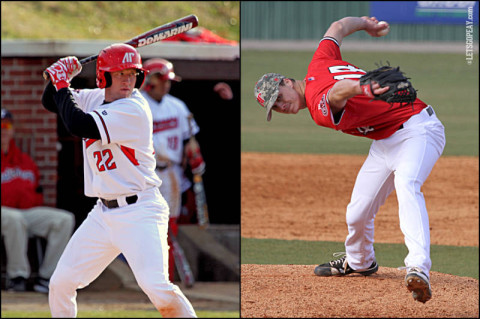 Cody Hudson
Earlier this week Hudson was tapped for national weekly honors when the National Collegiate Baseball Writers Association named him its National Player of the Week. In addition, Hudson was named the Tennessee Sports Writers Association's Player of the Week, Monday.
Hudson, of Germantown, TN, also was named the Ohio Valley Conference's Player of the Week after batting .500 (11-for-22) with a multi-hit performance in each game. He also tallied 11 RBI and three stolen bases to help the Govs post a 5-0 mark during the week. He posted multiple hits in each of the five games during the week, including three game-winning hits.
Hudson began the week with a walk-off three-run home run in the Govs' victory against Michigan State, Monday. Hudson added a walk-off suicide squeeze in the 10th inning of the Govs win against Milwaukee, Saturday. He then added a game-winning, two-run double in the eighth inning of APSU's 9-8 win against Creighton.
Tyler Rogers
Rogers, of Littleton, CO., was named CollegeBaseballInsider.com's Central Pitcher of the Week after making appearances in four of the Govs five games during the week and finishing with a 3-0 record and a save. He allowed only one unearned run in 5.1 innings pitched. He made his season's longest outing last Monday, recording the final six outs in the Govs walk-off win against Michigan State. Rogers notched his season's sixth save against Western Kentucky, last Wednesday.
Rogers, who also was named the Ohio Valley Conference's Pitcher of the Week, continued his run at the Riverview Inn Classic, beginning when he pitched a scoreless 10th inning in the Govs walk-off win against Milwaukee, Friday. Rogers finished the week with the win in Saturday's victory against Creighton, allowing an unearned run in the 9-8 victory.
Hudson and Rogers have continued their heroics this week. Hudson reached base as the leadoff hitter and scored in both the ninth and 11th innings while Rogers threw a scoreless 11th inning for the win in Austin Peay's 6-5 extra-inning victory against Indiana State.
The Govs begin a five-game road trip with a 4:00pm contest, Wednesday, at Lipscomb.