Written by Donny Caver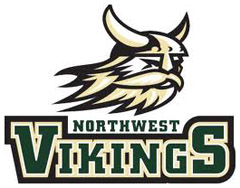 Clarksville, TN – Northwest improved to 2 – 0 on the season with an extra inning 11 – 10 victory over Creekwood at Riley Martin Field Tuesday night.
Northwest scored 4 runs in each of the first 2 innings to take an early 8 – 0 lead but Creekwood would score 3 runs in the 5th and 6 runs in the 6th to tie the game at 10 to force extra innings.
Zach Schilling lead off the bottom of the 8th inning for the Vikings with a double.
After a Creekwood balk that moved Schilling to 3rd, Shawn Howard hit a hard ball off the shortstop's glove that scored Schilling with the winning run.  Ty Haston lead the Vikings at the plate by going 4 for 4 with a Home Run.  Chad Chisolm went 2 for 3 with a double and 4 RBI's.
Brandon Pociask was the winning pitcher after entering the game in the 6th inning and getting out 9 of the 10 batters he faced, striking out 8.  Creekwood was led by Jamie Williams with 2 hits.
Northwest will travel to Hopkinsville on Friday to face the Tigers. Game time is 5:30pm.
Box Score
| | | | | | | | | | | | |
| --- | --- | --- | --- | --- | --- | --- | --- | --- | --- | --- | --- |
| School | 1 | 2 | 3 | 4 | 5 | 6 | 7 | 8 | R | H | E |
| Creekwood (0-2) | 0 | 0 | 1 | 0 | 3 | 6 | 0 | 0 | 10 | 9 | x |
| Northwest (2-0) | 4 | 4 | 0 | 1 | 1 | 0 | 0 | 1 | 11 | 12 | x |
CW– Will Duke, Taylor Piper, Gage Terry, Austin Wills and Austin Hornet
NW– Isaac Masters, Shawn Howard(5), Tyler Boles(6), Brandon Pociask(6) and Hunter Schmittou
WP– Brandon Pociask (1-0)
LP–  Austin Wills (0-1)