TDOT Issues Two Important Public Meeting Notices impacting Clarksville-Montgomery County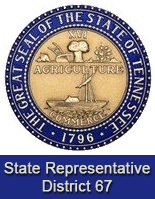 Nashville, TN – House Bill 0422 (Senate Bill 493) which would expedite issuance of certain professional licenses and temporarily extend certain licenses for active duty personnel that were deployed when their licenses came due for renewal passed unanimously in the House of Representatives on Monday, March 11th.
Tennessee State Representative Joe Pitts (D-Clarksville), sponsor of the House bill said "The legislation sets a clear process for professional license renewal when our active duty military personnel are deployed at the time of that renewal."
The House of Representatives passed the bill unanimously and the Senate will take up the bill on Monday, March 18th.
Tennessee Department of Transportation Public Meeting Notices
Warfield Boulevard
The Tennessee Department of Transportation (TDOT) has issued notice for the solicitation of comments concerning the Construction Reevaluation for the improvement of SR-374 Warfield Boulevard, from south of Dunbar Cave Road to west of Stokes Road in Montgomery County, a distance of 1.72 miles.
This re-evaluation is conducted in accordance with 23 CFR 771.117.
Interstate 24
TDOT also issued a Notice of Public Meeting for April 11th, 2013, from 5:00pm to 7:00pm, at the Clarksville-Montgomery County Library, 350 Pageant Lane.  TDOT is conducting a study to identify improvements for the 185-mile Interstate 24 corridor from the Kentucky State Line to I-75 in Hamilton County.
TDOT will conduct two series of public meetings to present a project overview, describe identified transportation deficiencies, and solicit comments from the public and key stakeholders. During the meeting there will be a formal presentation to provide the background and current status of the project.
The public is invited to ask questions and make comments during the meeting. Information gathered during these meetings will be considered in the prioritization of potential solutions.  Anyone with questions regarding the meetings should contact Ms. Joan Barnfield, Project Manager at or by phone at 615.253.2418.
HB0025/SB0010 on its way to the Governor for signature
House Bill 0025 sponsored by Representatives Curtis Johnson, Joe Pitts, John Tidwell and Senate Bill 0010 sponsored by Senator Mark Green have passed both the House of Representatives and the Senate unanimously and are headed to the Governor for his signature.
This legislation requires the department of safety to waive the driving skills test, and accepts alternative requirements, for active duty and honorably discharged service members applying for commercial driver licenses; identifies certain alternative requirements, which include operating a commercial motor vehicle in the military in combination with a good driving record.
"This is another tangible way to help veterans obtain employment as they process out of the military," Pitts said.
Montgomery County Breakfast to Commemorate the 50th Anniversary of the Vietnam War
Montgomery County Vietnam War Veterans and their guest are invited to a commemorative breakfast for the 50th anniversary of the Vietnam War on Wednesday, April 3rd, 2013 from 7:30am to 9:00am at Wilma Rudolph Events Center at Liberty Park, 1190 Cumberland Drive.
This event is free for Vietnam veterans and thanks to a generous sponsor, is also free for one guest of each veteran as well.  All additional guests are $10.00 each. This event is open to residents of Montgomery County.
Reservations are required due to limited seating. RSVP by March 29th to 931.648.8482.
If you have questions about any item above or other issues of concern, please call me at 615.741.2043, or email me at