Clarksville, TN – Austin Peay State University swept the top four singles matches and took the doubles point to avenge a 2012 OVC Tournament loss to Eastern Kentucky, defeating the Colonels, 5-2, to open the Ohio Valley Conference slate, Saturday.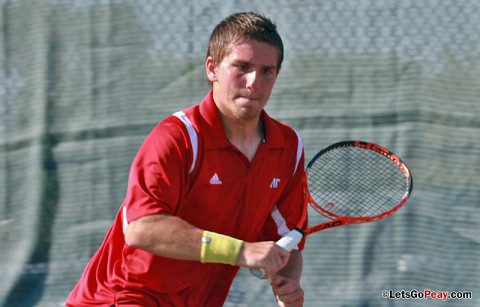 The Govs (7-2, 1-0 OVC) won their seventh straight thanks to a terrific all-around effort from the top players on head coach Ross Brown's squad. Senior Sean Bailey and junior Jasmin Ademovic destroyed Alex Alvaro and Daridge Saidi, 8-2, for a pivotal No. 1 doubles win. In singles, Ademovic's 7-5, 7-6 win over Alvaro clinched the winning point for Austin Peay.
In his first action in nearly a month, sophomore Iago Seffrin teamed up with Dimitar Ristovski for an 8-1 No. 3 doubles victory over Juanjo De La Llera and Joao Maio. Ristovski later defeated De La Llera, 6-4, 6-2, in No. 3 singles.
Sophomore Aleksas Tverijonas rounded out the wins for Austin Peay, defeating Lucas Smets, 6-4, 6-0, in No. 4 singles.
The Govs look for a conference-opening sweep when they host Morehead State, 2:00pm, Sunday, in Clarksville.
Box Score
Singles competition
1. BAILEY, Sean (APSU) def. SAIDI, Daridge (EKU) 2-6, 7-6, 6-0
2. ADEMOVIC, Jasmin (APSU) def. ALVARO, Alex (EKU) 7-5, 7-6
3. RISTOVSKI, Dimitar (APSU) def. DE LA LLERA, Juanjo (EKU) 6-4, 6-2
4. TVERIJONAS, Aleksas (APSU) def. SMETS, Lucas (EKU) 6-4, 6-0
5. MAIO, Joao (EKU) def. STORIE, John (APSU) 6-2, 6-1
6. GRASKAMP, Florian (EKU) def. BOROWSKI, Evan (APSU) 6-2, 6-1
Doubles competition
1. BAILEY, Sean/ADEMOVIC, Jasmin (APSU) def. SAIDI, Daridge/ALVARO, Alex (EKU) 8-2
2. RISTOVSKI, Dimitar/SEFFRIN, Iago (APSU) def. DE LA LLERA, Juanjo/MAIO, Joao (EKU) 8-1
3. STORIE, John/TVERIJONAS, Aleksas (APSU) vs. SMETS, Lucas/DOMBROWSKI, Jan (EKU) 7-2, unfinished
Match Notes
Eastern Kentucky 5-11
Austin Peay 7-2