Clarksville, TN – Austin Peay State University men's tennis team ran its win streak to eight in a row, when the Govs defeated Morehead State, 6-1, Sunday. With the win, Austin Peay sweeps its Ohio Valley Conference-opening weekend for the third consecutive year.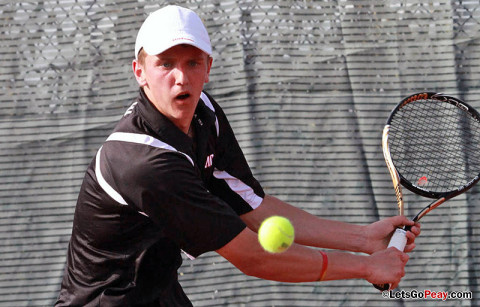 Austin Peay (8-2, 2-0 OVC) got both tremendous singles performances and exemplary doubles efforts from top to bottom. Top-seeded Gov Sean Bailey defeated the Eagles Ji Hoon Heo, 6-1, 6-2, while junior Jasmin Ademovic defeated Nathan Martin 6-0, 6-1 at No. 2 singles. The duo paired up to knock off Heo and Nick Mercer, 8-3, at No. 1 doubles.
"Our men were terrific, top to bottom," said head coach Ross Brown. "I couldn't really single out anyone's play, because they were all so important to our success today."
Sophomores Dimitar Ristovski (6-3, 6-7, 6-4) and Aleksas Tverijonas (7-5, 6-4) defeated Giovanni Samaha and David Clifford at No. 3 and No. 4 singles, respectively. Senior John Storie defeated Mercer at No. 5 singles, 6-3, 7-6 to round out the Govs singles wins.
The Govs hit the road for a three-match OVC swing, beginning 2:00pm, Saturday, March 23rd at SIU Edwardsville.
Box Score
Singles competition
1. BAILEY, Sean (APSU) def. HEO, Ji Hoon (MOR_M) 6-1, 6-2
2. ADEMOVIC, Jasmin (APSU) def. MARTIN, Nathan (MOR_M) 6-0, 6-1
3. RISTOVSKI, Dimitar (APSU) def. SAMAHA, Giovanni (MOR_M) 6-3, 6-7, 6-4
4. TVERIJONAS, Aleksas (APSU) def. CLIFFORD, David (MOR_M) 7-5, 6-4
5. STORIE, John (APSU) def. MERCER, Nick (MOR_M) 6-3, 7-6
6. DELIGNY, Kevin (MOR_M) def. BOROWSKI, Evan (APSU) 6-1, 6-4
Doubles competition
1. BAILEY, Sean/ADEMOVIC, Jasmin (APSU) def. HEO, Ji Hoon/MERCER, Nick (MOR_M) 8-3
2. SEFFRIN, Iago/RISTOVSKI, Dimitar (APSU) def. CLIFFORD, David/DELIGNY, Kevin (MOR_M) 8-6
3. MARTIN, Nathan/ALMONTE, Hugo (MOR_M) def. STORIE, John/TVERIJONAS, Aleksas (APSU) 9-8