Sevierville, TN – Austin Peay State University women's golf team bounced back from a disappointing opening round to finish eighth at the Bobby Nichols Intercollegiate, played at the Sevier Golf Club.
After finishing up the weather-delayed first round with a 333 earlier Tuesday, the Lady Govs rebounded to shave off 16 strokes with a 317 second-round score. As a result, APSU was able to move up three spots from 11th in the 13-team tournament.
Host Tennessee Tech rallied to win the tournament with a 622 score. Murray State finished one stroke back at 624. Fellow Ohio Valley Conference schools Eastern Kentucky (636) and Belmont (637) were just ahead of the Lady Govs in the final standings on the par-71 Highlands Course.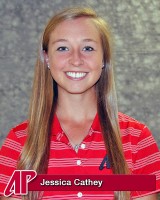 "We proved we could play with people in the second round," APSU coach Sara Robson said. "Had we shot like that in the first round, we would have been right up there with the leaders. But we were 24 over on the last six holes this morning and that contributed greatly to our problems. We were playing pretty well yesterday when we had to get off the course-I truly believed we would have scored better had we not been forced to come off the course.
"But that is no excuse on how we played this morning to finish up the round. I am proud in how they hung in there this afternoon and showed more how we could play."
The morning play was excruciating to the point that no Lady Gov broke 80 during the first round. In the afternoon, the Lady Govs' counters had two 78s-freshman Jessica Cathey and junior Rachel Deaton-while no golfer shot above 82 as sophomore Meghan Mueller (80) along with seniors Holly Batey (81) and Tabitha Beard (82) all enjoyed solid rounds on a course where greens were hard to navigate. APSU's two individuals, Lauren Bond (79) and Tala Mumford (80), also were productive in the final round.
For the second straight tourney, Cathey (158) just finished outside the Top 10 in a 12th-place tie. Bond was APSU's second best finisher with 159 (80-79), tying her for 20th. Beard and Mumford tied for 36th at 163 while Mueller tied for 38th at 164.