Cordova, TN – With senior Dustin Korte firing a tourney-leading first-round 71, Austin Peay State University men's golf team sits in first place heading into the final day of the prestigious Memphis Intercollegiate, being played at the Colonial Country Club South course.

The Govs were tied after the first round with South Alabama after shooting a 15-over 303. Cold temperatures delayed Monday's start for more than an hour, making it impossible to finish round two.

With most golfers still needing to complete the final four holes of Round 2 before playing a final 18, the Governors own what is believed to be a six-shot lead over Louisiana-Lafayette, which made a huge jump from an 11-place tie after an opening-round 318.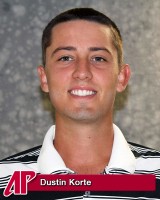 "For our guys to compete like they did today I am so proud of what they accomplished," APSU coach Kirk Kayden. "It was brutally cold, the winds were at 30 miles per hour most of the day and it was spitting snow. The conditions were terrible but our guys stayed focused.
"We talked about it Sunday night—how conditions were probably going to be today and how staying focused and being mentally tough would be factors today. As far as worst conditions it was in the top three that we have played in.
"But now we have to finish it off with 22 holes tomorrow."
Facing one of the strongest regular-season tourney fields in Governors history, APSU and South Alabama held a one shot lead over host Memphis and Louisville after Round 1. Texas Tech was third (305) followed by Vanderbilt (306).
Playing his best golf of the spring on one of the state's most difficult courses, Korte fashioned four birdies and three bogeys in Round 1. Opening on No. 7 in the shotgun start, Korte recorded pars on his first three holes before bogeys on No. 9, 13 and 14 had him at 3-over. But the senior from Metropolis, IL, bagged birdies on three straight holes, Nos. 17, 18, 1. His fourth birdie came on No. 5.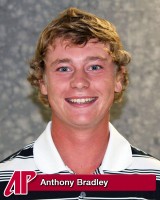 Korte shot the round's only subpar score, holding a one-shot lead over Texas Tech's Esteban Restrepo.

"Dustin's round in those conditions was just absolutely incredible," Kayden said. "You can't put into words how well he played."

Meanwhile, junior Anthony Bradley was tied for fourth after Round 1, finishing with a birdie on No. 6 to sit at 2-over 74. Like Korte, Bradley started on No. 7 and bogeyed the first two holes. However, he regrouped, gaining a birdie on No. 11 before reeling off eight straight pars before back-to-back bogeys again reared their ugly head on No. 2 and 3.

Sophomore Tucker Wallace was tied for 20th after shooting a 77 while junior Marco Iten fought back from a quadruple bogey on No. 17 to finish at 81. Redshirt freshman Korey Smith could never get it going as the blue numbers dotted his scorecard with a 12-over 84.

Kayden indicated Iten, who had been APSU's best golfer this spring, bounced back from his 81 and was battling to shoot a second-round par. He also said Wallace was just 2-over and that Korte, who was still battling for the lead, and Bradley were also enjoying solid second round, despite the conditions.

"We had some guys really playing some good golf today," Kayden said. "We talked about seizing the moment. And they did that today.

"Tomorrow, they just need to go out like they did today and just play one shot at a time."



Sections
Sports
Topics
Anthony Bradley, APSU, APSU Athletics, APSU Golf, APSU Men's Golf, APSU Sports, Austin Peay State University, Cordova TN, Dustin Korte, Golf, Governors, Govs, Kirk Kayden, Korey Smith, Louisiana-Lafayette, Louisville, Marco Iten, Memphis, Memphis Intercollegiate, memphis tn, Ohio Valley Conference, OVC, South Alabama, Tennessee, Texas Tech, Vanderbilt