Clarksville Mayor Kim McMillan joins other Mayors on Regional Transportation Authority Expanded Service Route Monday, April 1st, 2013
Clarksville, TN – As previously announced, the Regional Transportation Authority (RTA) is expanding its regional bus service to and from Clarksville and is adding a new Cheatham County stop in Pleasant View beginning April 1st, 2013.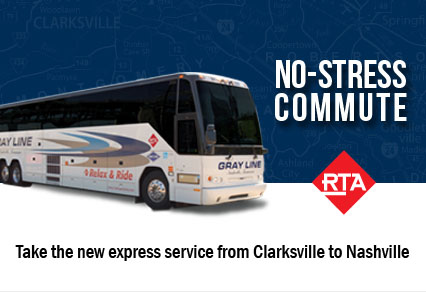 Clarksville Mayor Kim McMillan will join Cheatham County Mayor David McCullough and Pleasant View Mayor Kerry McCarver in riding to Nashville on the first day of the new route.
"I'm very proud of this service and, as we predicted, it has already grown to the point that we are adding another route," said Mayor McMillan. "This expanded service, with its new stop in Cheatham County offers another option to people who live in our region. I fully expect that we will see continued growth in this service and look forward to working with Mayor McCullough and Mayor McCarver as new opportunities arise."
The route the Mayors will ride will depart the Clarksville Rossview Road Park and Ride at 6:19am. It will then stop at the new Pleasant View Park and Ride at 6:43am, and will arrive at Music City Central in downtown Nashville at 7:18am. Here is a full list of the Clarksville/Nashville routes:
The cost to ride is $4.00 per ride, or $70.00 for a 20-Ride R&R Express Bus ticket. Children age four and under ride free. Service is Monday through Friday only; there is no express service on Saturday, Sunday, or holidays.
For more information concerning this route, schedules or other questions, please call RTA/MTA Customer Care at 615.862.5950 or visit rtarelaxandride.com.
For more on this story, see: Regional Transportation Authority expands bus service to Clarksville [1]