APSU Sports: Austin Peay Baseball

Clarksville, TN – Austin Peay wraps up the first half of the 2013 campaign when it hosts Lipscomb in a 6:00pm, Tuesday contest at Raymond C. Hand Park.
The Govs then start the season's second half when they meet Western Kentucky in a 6:00pm, Wednesday contest in Bowling Green, KY.
Austin Peay bounced back from its first back-to-back losses in 2013 with its first three-game sweep at Murray State since 1992 and ended the weekend second in the OVC race.
Lipscomb will wrap up a five-game road trip that has seen it go 1-3 against two nationally-ranked teams.
Western Kentucky remained atop the Sun Belt Conference standings with its series victory against Louisiana-Lafayette last weekend and will be concluding a six-game home stand.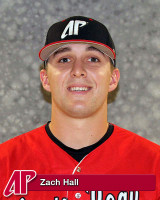 Lipscomb is 4-7 since it last met Austin Peay but took a game off nationally-ranked Florida-Gulf Coast last weekend in Atlantic Sun action. Senior shortstop Aaron Sandoval leads the Bisons with a .318 batting average. Senior outfielder Zach Lowery is Lipscomb's leader in home runs (5) and RBI (17). Redshirt junior Jacob Knott will make his season's 7th start and brings a 1-3 record and 5.12 ERA into Tuesday's outing with 25 walks and 28 strikeouts in 31.2 innings pitched.
Austin Peay won the 1st meeting with Lipscomb, 3-1, March 13th. The Govs have won the last 9 meetings in the series. APSU owns a 21-15-1 edge and has won 5 consecutive games at home. The overall series is slightly in APSU's favor, 63-62-1.
Western Kentucky posted a 9-3 record in the last 16 days of March, including Sun Belt Conference series wins against Middle Tennessee, FIU and Louisiana-Lafayette. Senior catcher Ryan Huck is WKU's leader in all three triple crown categories: batting average (.361), home runs (9) and RBI (28). Junior Jake Thompson will make his season's second start, one week after picking up the win in a start against Evansville.
Austin Peay won the 1st meeting with Western Kentucky, 7-6, March 6th. The win ended a WKU 6-game win streak in the series. The Hilltoppers have won 3 straight at home against the Govs and own a 89-59-1 advantage in the series.
Austin Peay has jumped out of the gates to a 22-5 mark entering the season's seventh weekend. It is the best 27-game mark in program history. Looking ahead, the Govs best 29-game mark is 21-8 by the 1971 squad.
For the fourth consecutive week, Austin Peay was listed among the teams receiving votes in the USA TODAY Sports Coaches Poll. The Govs gathered 8 points in the April 1st poll – up from one point the week prior – and were tied for 35th unofficially with Campbell. For the third straight week, Austin Peay was among the list of others receiving votes in the National Collegiate Baseball Writers Association's April 1st poll.
Austin Peay fell one spot in CollegeBaseballDaily.com Mid-Major Top 25 Poll and was ranked No. 6 in the poll's April 1st edition. Indiana took over the poll's top spot followed by No. 2 Louisville, No. 3 San Diego, No. 4 Missouri State and No. 5 Florida Atlantic. The Mid-Major Poll includes all baseball conferences except the ACC, Big 12, Big West, Conference USA, Pac 12 and the SEC.
Probable Pitchers
Date
Start
Austin Peay Starter
Opponent Starter
Tuesday
6:00pm
LHP Zach Hall (Jr., 2-1, 7.09 ERA)
RHP Jacob Knott (RJr., 1-3, 5.12 ERA)
Wednesday
6:00pm
RHP Jared Carkuff (Fr., 0-0, 6.57 ERA)
RHP Jake Thompson (Jr., 2-3, 3.72 ERA)
Media Center
Radio: Governors Sports Network
Online Audio: www.LetsGoPeay.com
Twitter: @APSUBaseball