Clarksville, TN – Today there are many recognizable names of women artists, yet according to the National Museum of Women in the Arts only 5% of art currently on display in U.S. museums is made by women.
While the Customs House Museum is known for exhibiting many accomplished female artists in group and solo shows, since 2009 the month of March annually brings a new themed exhibit celebrating Women's History Month.
For 2013 that theme is "Women Painting Women" and will showcase contemporary female artists who paint primarily figurative work.
Included in the exhibit are Ann Piper, Gaela Erwin, Yvonne Petkus, Gwen Rodriguez, Sharon Rusch Shaver, Alison Oakes, Chelsea Gibson, Tanya Tewell, Lynn Garwood, Wanda Choate, Denise Stewart Sanabria, Terri Jordan, and Virginia Derryberry.
Virginia's work has been shown throughout the United States in such venues as the Carnegie Museum of Art, Forum Gallery, NYC, the London Institute of Art, the Federal Reserve Board in Washington, DC, the Gelb Gallery at Phillips Academy, MA, the Museum of Contemporary Art of Georgia, the Morris Museum of Art, the Erie Museum of Art, and the Southeastern Center for Contemporary Art.
Sanabria, known for her wooden cutout figures will also be featured in the February issue of American Art Collector Magazine, plus an article in the February/March issue of International Artist Magazine. Denise will also be a featured artist at the Arts Company in April.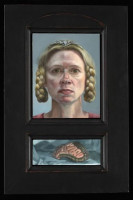 Erwin is by her own description, a perceptual painter. "What I see before me in the mirror is what I paint. Though my methods and techniques have not changed drastically from those artists who lived centuries before me, I am an artist of my own time. I borrow from the great portraitists of the past to first seduce and then challenge contemporary viewers to catch a glimpse of their own anxieties mirrored in my work."
In conjunction with "Women Painting Women", the museum will host a Writers' Hour event on April 9th at 6:30pm. Guest readers will include Amy Wright, Shana Thornton, and Mitzi Cross; as well as other local writers. The event is free to attend. Women Painting Women is on view through May 12th. An exhibit catalog is available for purchase in the museum gift shop.
Located at the corner of Second and Commerce Streets, the Customs House Museum is the second largest general museum in Tennessee.
For more information on above events contact Terri Jordan, Exhibits Curator, at 931.648.5780 or terri@customshousemuseum.org.
About the Customs House Museum
Located in the heart of historic downtown Clarksville, Tennessee, the Customs House Museum and Cultural Center is the State's second largest general museum. With over 35,000 square feet of the region's best hands-on activities and special events…people of all ages agree – the Customs House Museum is well worth the stop!
The Explorer's Gallery is packed with fun, learning and fantasy in Aunt Alice's Attic, McGregor's Market and kitchen, and of course – the Bubble Cave! Finally, get "all aboard" to see our fantastic model trains. Our volunteer engineers "ride the rails" every Sunday afternoon from 1:00pm to 4:00pm.
Regular museum hours are 10:00am to 5:00pm Tuesday through Saturday, and 1:00pm to 5:00pm on Sundays. Adult admission is $7.00, Sr. Citizens and College ID $5.00, Ages 6 to 18 $3.00, and under six years and Museum members are free.
The Customs House Museum is located at 200 South Second Street. For more information, call 931.648.5780 or visit their website at www.customshousemuseum.org