Operation Stand Down coming to Clarksville to assist Veterans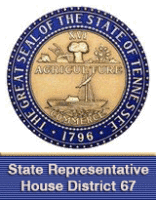 Nashville, TN – House Bill 423/Senate Bill 527 affords private foundations with protections from governmental intrusion
House Bill 0423, sponsored by Tennessee Representative Joe Pitts, adds a new section to the Tennessee Code that would make "private foundation" have the same meaning as it does in section 509(a) of the Internal Revenue Code of 1986 as amended.
A private foundation would not be required by state or local government to disclose the sensitive about the foundation's employees, officers, directors, trustees, or contributors, without the prior written consent of the individual or individuals in question.
"There are sufficient protections in federal law, and Internal Revenue Service code to provide more than enough oversight of private foundations," said Pitts. "At a time of shrinking public funding for needed community services, we should encourage private philanthropy to help with the funding gaps."
This legislation has already cleared the Senate and will be heard on the House Floor on Monday, April 8th.
Update: Health Care "Navigator" legislation advances
When Congress enacted the Patient Protection and Affordable Care Act, it approved an important new provision in the law that creates the role of a "navigator" in helping consumers find the right health insurance policy.  The National Association of Health Underwriters asked Rep Pitts to sponsor HB0881 which will grant the Commissioner of the Tennessee Department of Commerce and Insurance rule making authority in providing proper oversight of these entities.
"The risk of consumer fraud is high if a navigator, who will have access to sensitive and personal information of the consumer, is left unchecked in our state," said Pitts.  "This measure will prohibit navigators from selling policies and will provide the state sufficient leverage if they overstep their bounds."
House Bill 0881 passed the Government Operations committee and will be heard in the House Finance, Ways, and Means sub committee on Wednesday, April 10th.
Update: Crime Victims Compensation legislation
House Bill 1117, also sponsored by Rep. Pitts, adds five crimes to the list of offenses eligible for criminal injuries compensation and will also be heard in the Finance subcommittee next week.  These offenses include vehicular assault, criminally negligent homicide, vehicular homicide, reckless homicide, and aggravated vehicular homicide whose injury or death was inflicted through the use of a motor vehicle or watercraft.
"I am hopeful the members of the subcommittee and the Governor understand the need for extending compensation to these victims of crime," Pitts said.
Update: School Testing Security
Another bill set for a hearing in the Finance Sub is House Bill 0425, part of Rep. Pitts' legislative package for 2013. This legislation requires the Department of Education to review all measures that are in place to prevent breaches in the security of standardized tests administered in grades K-12 in the public school and to reports its findings and recommendations for improvement of test security to the general assembly before the second Tuesday in January 2014. This information is viewed as a list of best practices to maintain confidence in the testing environment.
"This legislation is a pre-emptive move to prevent test fraud, like the recent scandals in Atlanta and Washington, D.C. public school systems, where people were convicted of selling tests or committing other acts of fraud," said Pitts. "As we remain over-reliant on standardized tests, and hold educators accountable for students' scores, we must help our local school districts maintain testing integrity."
Update: College Scholarships for Children of Military Parents
House Bill 0427 will also be heard in the Finance subcommittee next Wednesday.  This legislation would make necessary changes to the Tennessee HOPE scholarships for dependent children of active military parents. This legislation would also allow children of active duty military personnel, who become Tennessee residents under the definition of the Tennessee Board of Regents, regardless of their "home of record", to also be eligible for in-state tuition.
"The current requirements require the "home of record" of the soldier to be Tennessee," Pitts said. "I believe the students attending Tennessee high schools or are Tennessee residents should be eligible for the HOPE scholarship even if they are stationed overseas with their parents."
Mrs. Dottie Mann, a Clarksvillian, set to be reappointed to the State Forestry Commission
Senate Joint Resolution 178 will be heard in the House Agriculture and Natural Resource Committee on Tuesday, April 9th.  Tennessee Governor Bill Haslam has nominated, pending approval of the Senate Joint Resolution, Dorothy N. "Dottie" Mann to the State Forestry Commission for her second term.
"I am honored to carry this resolution in the House and would like to take this time to congratulate Dottie on her appointment and willingness to serve," Pitts said.
Student Jobs Fair
On May 2nd, Rep. Pitts will be hosting a Student Jobs Fair. Employers from all over Clarksville will be in attendance. "If you are looking for a job for the summer, mark your calendar and attend this important event," Pitts said. "We will provide more details in the coming days."
Attention Veterans
Operation Stand Down Nashville, Inc. is coming to Clarksville
Operation Stand Down will be in Clarksville on Monday, April 29th from 12:00noon to 2:00pm to answer questions about Employment, Medical, VA Benefits, Basic Services and Addressing Barriers. This event is free and will be located at 640 New Providence Boulevard. To Register, e-mail Lisa Baggett at or call her at 931.472.3531.
If you have questions about any item above or other issues of concern, please call me at 615.741.2043, or email me at