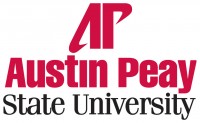 Clarksville, TN – On a recent Wednesday morning, about 60 children packed into a small music classroom in the Austin Peay State University Music/Mass Communication Building. They sat wide-eyed, staring at a piano and a table full of violins and other orchestral instruments.
In the front of the room, an APSU music student tuned a cello, and the strange sound caused some of the students to kick their feet excitedly back and forth. In a few minutes, they'd actually get to touch one of those expensive instruments.
The children were all home-schooled students, and they came to campus that Wednesday for their weekly music lesson. For the last three weeks, the APSU Department of Music has hosted the program as a way of providing music education for home-schooled students while also helping to train the next generation of music educators.
The program is part of the Elementary Music Methods course, taught by APSU assistant professor of music Dr. Eric Branscome, and prepares APSU students for teaching careers in elementary schools.
"There's just a huge market for home-schoolers looking for opportunities like this, and I figured this would be a great way for our students to teach real kids, rather than participate in mock-teaching scenarios," Branscome said.
The APSU students spent the first seven weeks of the semester studying elementary music teaching methods and developing lesson plans for the home-schooled students. Then, on a Wednesday in late March, those students dressed in professional attire, put on name tags and welcomed the young home-schoolers into APSU classrooms for fun, interactive music lessons.
"After each lesson, my students watch a video of themselves teaching and they complete a self-reflection," Branscome said. "Listening to them talk about what they feel they did well and what they need to improve, I know it's serving its purpose. And it's getting a lot of positive feedback from the parents."
APSU will continue hosting the home-schooled music program throughout the semester.