Written by Colby Wilson
APSU Sports Information

Clarksville, TN – If you're an Austin Peay baseball fan, you've probably heard the last name 'Harper' a few times.
Ralph Harper was a second baseman for the Govs from 1978-81. He hit above .330 his last two seasons and drove in 59 runs as a senior en route to All-OVC honors. After graduation, he eschewed pro ball for dental school at the University of Memphis. He returned to Clarksville after dentistry school to practice his craft and raise two sons.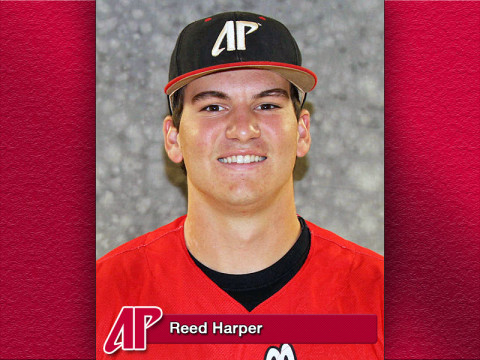 The oldest, Ryne, was a pitcher who joined Austin Peay's baseball team in 2008 and was drafted in the 37th round of the 2011 Major League Baseball First-Year Player Draft by the Atlanta Braves, for whom he began his second full year of pro ball at Double-A Mississippi last week.
The youngest, Reed, has a chance to go down as one of the best players to ever don the red-and-white.
"I feel like he's right up there," said Austin Peay hitting coach Derrick Dunbar, himself a four-year letterwinner who graduated in 2002. "If he does what he's done the previous three years and finishes strong, statistically, he could go down as the greatest position player that ever played at APSU.
"Plus, he's an Austin Peay guy who grew up in Clarksville and always wanted to come here. He's almost like (former Govs basketball player star) Trenton Hassell in that regard, where he wanted to stay close to home and represent his hometown school."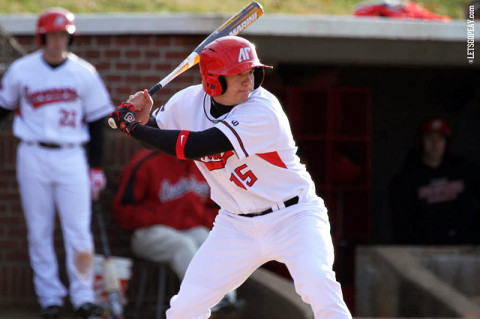 High praise, right? Well, Dunbar's belief is not far off the mark. With 24 regular-season games remaining in his career – and hopefully a deep OVC Tournament run and NCAA Tournament appearance to follow – Harper has 240 career hits (sixth all-time), 134 RBI (11th), 44 doubles (12th) and 573 assists (second) and is already one of only 15 Govs with 200 career games played. Harper has started each of the 207 games he's played in a Governor uniform.
With a bit of luck, Harper could find himself staring down a handful of hitting records that currently belong to Greg Bachman, who manned third base next to Harper in 2011 and 2012.
"Reed is one of the best athletes I ever played with," Bachman said. "He's one of the best baseball players I've ever seen. He's very unorthodox, but that's just Reed. He's fun to play with and it seems like everything he does is pretty much spectacular."
Reed joined the Govs out of Clarksville High School in 2010, but thanks to Ryne, Reed already felt like he'd been around the program for awhile. Although his brother originally thought he wanted to leave Clarksville for college before committing for the Govs, Reed always knew he wanted to play for Gary McClure at Austin Peay.
"Having Ryne at APSU my last two years of high school meant that I was around a lot," Harper said. "When I came to college, it was almost like I'd been here for two years. I always knew this was where I wanted to be if I got the opportunity."
With a family legacy in place at Austin Peay, it would be easy to get caught up in having to live up to the careers of Ralph and Ryne. But for Reed, blazing his own trail has always been most important.
"My dad never pushed anything on us," Harper said. "He wanted us to do what we were good at and have fun doing it. I've never felt like I had to live up to anything, and a lot of that has to do with how well Ryne carried himself. He had a lot of high expectations and had to battle injuries to get where he is, where I came in with low expectations and got to just show everybody what I could do with no pressure."
Dunbar also sees the individual in Reed and doesn't feel like he's worried about living in his father and brother's shadows.
"Reed is Reed," Dunbar said. "He's not Ryne or Ralph. While it may be normal for him to feel a little pressure, he's trying to make his own way. He doesn't want to let his family or his teammates down, but I don't think he feels pressure to be better than his father or his brother – he's just trying to do the best that he can do."
The best that Reed can do has been pretty good so far. He's shined brightest in the big moments, earning All-OVC Tournament honors in 2012 and an All-Atlanta Region Team nod during the 2011 NCAA Regional at Georgia Tech.
Harper's performance in the classroom is just as spectacular as his work on the field. A 2012 Capital One Academic All-American, Harper carries a 3.46 GPA in chemistry with a minor in general business and pre-professional health; if a professional baseball career doesn't work out, he plans to follow in his father's footsteps and become a dentist. He's also one of 30 baseball finalists for the 2013 Senior CLASS Award, recognizing athletes with notable achievements in the community, classroom, character and competition.
Although the individual honors are nice, Reed's focus remains on this year. The desire to cap off his career with a return to the NCAA Regional and possibly further is enhanced by what Harper calls "the best team we've had at Austin Peay in my career."
"When we went to the regional two years ago, I think we played with a lot of emotion," Harper said. "We wanted to prove that we belonged, and that carried over into last year. I don't think anyone on this team would tell you that we weren't the best team (at the Eugene Regional). Now we're a veteran team and we feel like we've got a job to finish that was left undone last year."
As one of those veterans, Harper's ability to come through in big moments will be magnified down the stretch. It's a job his coaches and teammates feel Harper is uniquely qualified to perform.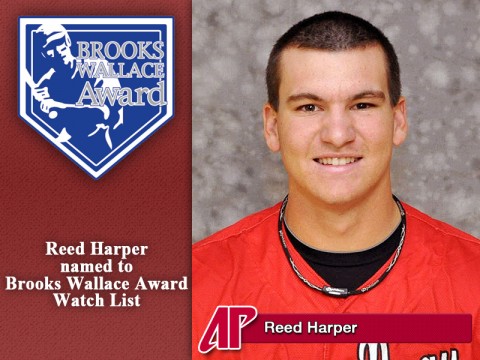 "He's a gamer," Dunbar said. "When the intensity of the moment increases, Reed answers the call. He wants to be the guy in the clutch spot, and he plays like it. Not every guy is wired that way."
Dunbar already believes Harper resides in the pantheon of Governor greats. But with baseball left to play, Harper feels like a legacy can't even be discussed until his career is over.
"Coach Dunbar always talks about the legacy you leave, and how every day you have a chance to change that legacy," Harper said. "A couple of months from now, maybe I can look back on it and really answer that, but not right now."