Clarksville, TN – After seeing its 14-match win streak snapped in Saturday's loss to Tennessee Tech, Austin Peay State University men's tennis team bounced back in a big way against Jacksonville State, Sunday.
The Govs used dominant singles performances to knock off the Gamecocks, 5-2, at the Austin Peay Tennis Courts.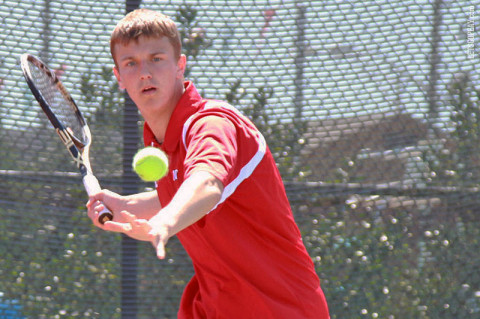 Austin Peay (15-3, 8-1 OVC) locked up the No. 2 seed and a first-round bye at next week's Ohio Valley Conference Tennis Tournament. Jacksonville State (10-13, 6-3 OVC) enters the conference tournament as the No. 4 seed.
After dropping the doubles point for the second time this weekend, the Govs rallied back to take five of the six singles points. Senior Sean Bailey defeated Igor Santos, 6-4, 6-4, at No. 1 singles, while junior Jasmin Ademovic won the No. 2 match, 6-1, 6-1, against Axel Sundberg.
Sophomore Dimitar Ristovski won his school-record 16th consecutive match, a 6-3, 2-6, 6-0 victory No. 3 victory against Nenad Marcec. The Macedonian finished a perfect 9-0 in conference regular-season matches.
Aleksas Tverijonas recovered nicely after losing his season's first match yesterday, bouncing back to defeat Felipe Diaz, 6-2, 6-4, at No. 4 singles. Senior John Storie picked up the Govs final victory, a 5-7, 6-1, 6-3 win at No. 5 singles over Felipe Wenzel.
With a first-round bye in hand, the Govs will have to wait to find out their first opponent at the conference tournament. Austin Peay will face the winner of the No. 3 Eastern Kentucky vs. No. 6 Morehead State match, 2:00pm, Saturday, at Heflin Tennis Center in Paducah, KY.
Box Score
Austin Peay 5, Jacksonville State 2
April 14th, 2013 at Clarksville, TN
Singles competition
1. BAILEY, Sean (APSU) def. SANTOS, Igor (JSUM) 6-4, 6-4
2. ADEMOVIC, Jasmin (APSU) def. SUNDBERG, Axel (JSUM) 6-1, 6-1
3. RISTOVSKI, Dimitar (APSU) def. MARCEC, Nenad (JSUM) 6-3, 2-6, 6-0
4. TVERIJONAS, Aleksas (APSU) def. DIAZ, Felipe (JSUM) 6-2, 6-4
5. STORIE, John (APSU) def. WENZEL, Felipe (JSUM) 5-7, 6-1, 6-3
6. WATANABE, Felipe (JSUM) def. BOROWSKI, Evan (APSU) 6-1, 6-1
Doubles competition
1. BAILEY, Sean/ADEMOVIC, Jasmin (APSU) def. SUNDBERG, Axel/MARCEC, Nenad (JSUM) 8-4
2. SANTOS, Igor/WENZEL, Felipe (JSUM) def. STORIE, John/TVERIJONAS, Aleksas (APSU) 9-7
3. DIAZ, Felipe/WATANABE, Felipe (JSUM) def. RISTOVSKI, Dimitar/BOROWSKI, Evan (APSU) 9-7
Match Notes
Jacksonville State 10-13
Austin Peay 15-3