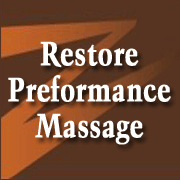 Clarksville, TN – Russ Shemberger, a licensed massage therapist at Restore Performance Massage on Madison Street in Clarksville, finished sixth overall in the Murray Half-Marathon on Saturday, April 13th in Murray, Kentucky.
Shemberger finished the 13.1-mile course in 1:37:08 and won his age group (male 45-49).
Shemberger is a veteran triathlete.
For the Murray Half-Marathon and upcoming triathlons in the next few weeks, he is coached by Jessica Dollar of FTP Coaching, based in Hendersonville, Tennessee.
As a licensed massage therapist, Shemberger leads Restore Performance Massage – aka RPM Massage – in sports massage treatment, therapeutic, Swedish and deep tissue massage.
RPM Massage is open from 10:00am-6:00pm, Monday and Wednesday, 8:00am-4:00pm, Tuesday and Thursday, and from 8:00am-noon, Friday. To make an appointment, call 931.647.3692.
RPM Massage also can be found on Facebook: http://www.facebook.com/rpmmassage.