Nashville Sounds Out-Hits Cubs But Suffers Third Consecutive Loss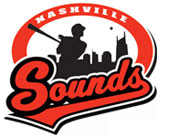 Des Moines, IA – Iowa left-hander Brooks Raley twirled six scoreless innings to lead the Iowa Cubs to a 4-1 victory over the Nashville Sounds on Tuesday evening at Principal Park in the opener of a four-game series. The defeat was the third in a row and the sixth loss in the last seven games for Nashville (4-8).
The Sounds out-hit the Cubs, 10-3, in the game and placed a runner into scoring position in seven of the nine innings but finished just 1-for-11 in RBI opportunities. Ozzie Chavez, Cole Garner, and Anderson De La Rosa all turned in two-hit efforts for the Sounds.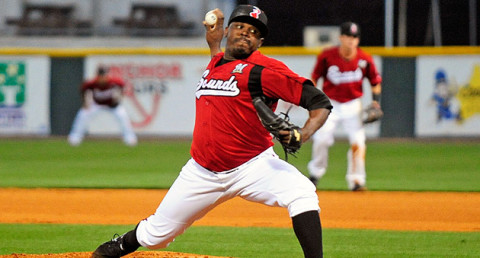 Raley (1-0) stifled the Nashville offense, tossing six scoreless innings to earn the victory. The southpaw scattered six hits and struck out seven Sounds batters on the night.
Sounds starter Frankie De La Cruz struggled with his control during a 26-pitch first inning, issuing three four-pitch walks to Cubs batters to load the bases with one out. Veteran infielder Donnie Murphy put Iowa on the scoreboard with a sharp grounder to third that resulted in an RBI fielder's choice as Logan Watkins raced home for a 1-0 lead. De La Cruz recovered to induce an inning-ending flyout from Darnell McDonald to strand two base runners and limit the damage.
The Sounds missed a chance to even the contest in the fourth after Chavez reached third with only one out. However, Raley struck out Sean Halton and got Stephen Parker to ground out to escape the inning unscathed.
The I-Cubs didn't record their first hit against De La Cruz until the bottom of the fourth, when former Sound J.C. Boscan, the number eight hitter in the lineup, drilled a two-run double off the top of the left field wall. Darnell McDonald and ex-Sound Edwin Maysonet scored on the two-bagger, which upped the Iowa lead to 3-0.
Nashville had a runner on third with only one out again in the fifth and once again failed to score. De La Cruz dropped a two-strike foul bunt with runners on the corners for the second out before Raley induced an inning-ending grounder from Scooter Gennett.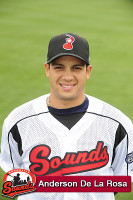 Iowa right fielder Ryan Sweeney made it a 4-0 contest in the home half of the fifth with a one-out RBI triple into the right field corner to plate Ty Wright, who preceded him with a single. De La Rosa, the Sounds' catcher, erased Sweeney from the basepaths with a pickoff during the ensuing at-bat.
De La Cruz (1-1) took the loss for Nashville after allowing four runs on three hits in his five innings of action. The veteran walked four batters and fanned none in his 78-pitch effort.
The Sounds' bullpen continued its early-season solid work, combining to blank the I-Cubs behind De La Cruz. Chris Jakubauskas, Jesus Sanchez, and Travis Webb each offered a perfect inning of relief for Nashville as the final 10 Iowa batters on the night were retired in order.
Nashville finally got onto the scoreboard against Cubs reliever Cory Wade in the top of the ninth to avoid the shutout.
Third baseman Stephen Parker led off with a single to extend his hitting streak to seven games, matching Gennett for the longest effort by a Sound this season. Later in the frame, Caleb Gindl snapped an 0-for-19 funk by dropping a one-out RBI double down the right field line to put the Sounds on the board.
Wade recovered to strike out De La Rosa and retire pinch-hitter Blake Davis on a game-ending comebacker to close out the Iowa victory.
The teams continue the series with a 12:05 p.m. matinee meeting on Wednesday. Right-hander Johnny Hellweg (1-1, 4.00) will make his third start of the year for the Sounds. Iowa will counter with right-hander Nick Struck (0-1, 6.00).
Box Score
Iowa Cubs 4, Nashville Sounds 1
April 16, 2013
| Final | 1 | 2 | 3 | 4 | 5 | 6 | 7 | 8 | 9 | | R | H | E |
| --- | --- | --- | --- | --- | --- | --- | --- | --- | --- | --- | --- | --- | --- |
| Nashville Sounds | 0 | 0 | 0 | 0 | 0 | 0 | 0 | 0 | 1 | | 1 | 10 | 0 |
| Iowa Cubs | 1 | 0 | 0 | 2 | 1 | 0 | 0 | 0 | | | 4 | 3 | 1 |
a-Lined out for Jakubauskas in the 7th. b-Grounded out for Webb in the 9th.
BATTING
2B: Morris (3, Negrin), Gindl (3, Wade).
TB: Chavez, O 2; Garner 2; De La Rosa, A 2; Gennett; Parker, S; Gindl 2; Morris 2.
RBI: Gindl (3).
Runners left in scoring position, 2 out: Parker, S 2; Gennett; Statia; Halton; Davis, B.
Team RISP: 1-for-11.
Team LOB: 8.BASERUNNING
SB: Chavez, O (1, 2nd base off Raley/Boscan), Morris (1, 2nd base off Raley/Boscan).
PO: Gennett (1st base by Raley).FIELDING
Pickoffs: De La Rosa, A (Sweeney at 3rd base).
BATTING
2B: Boscan (3, De La Cruz, F).
3B: Sweeney (1, De La Cruz, F).
TB: Boscan 2; Wright, T; Sweeney 3.
RBI: Murphy, Do (2), Boscan 2 (4), Sweeney (8).
2-out RBI: Boscan 2.
Runners left in scoring position, 2 out: McDonald, D; Raley.
Team RISP: 1-for-4.
Team LOB: 3.BASERUNNING
PO: Sweeney (3rd base by De La Rosa, A).FIELDING
E: Boscan (1, throw).
DP: (Watkins-Nelson, B).
Pickoffs: Raley (Gennett at 1st base).
Iowa Cubs
Player
IP
H
R
ER
BB
SO
HR
ERA
Brooks Raley (W, 1-2)
6.0
6
0
0
0
7
0
3.18
Yoanner Negrin
2.0
2
0
0
0
0
0
0.00
Cory Wade
1.0
2
1
1
0
2
0
9.35
Totals
9.0
10
1
1
0
9
0
6.46
WP: Wade.
HBP: Morris (by Raley), Maysonet (by De La Cruz, F).
Pitches-strikes: De La Cruz, F 78-41, Jakubauskas 12-8, Sanchez, Je 14-8, Webb 10-6, Raley 91-59, Negrin 31-23, Wade 23-14.
Groundouts-flyouts: De La Cruz, F 7-4, Jakubauskas 1-1, Sanchez, Je 0-3, Webb 2-0, Raley 4-2, Negrin 3-2, Wade 1-0.
Batters faced: De La Cruz, F 22, Jakubauskas 3, Sanchez, Je 3, Webb 3, Raley 23, Negrin 8, Wade 5.
Umpires: HP: Greg Stanzak. 1B: Angel Campos. 3B: Nick Bailey.
Weather: 53 degrees, overcast.
Wind: 12 mph, In from CF.
T: 2:31.
Att: 3,867.