Paducah, KY – In defeating Eastern Kentucky, 4-2, in the Ohio Valley Conference Tournament semifinals, Austin Peay State University men's tennis team did more than advance to Sunday's final.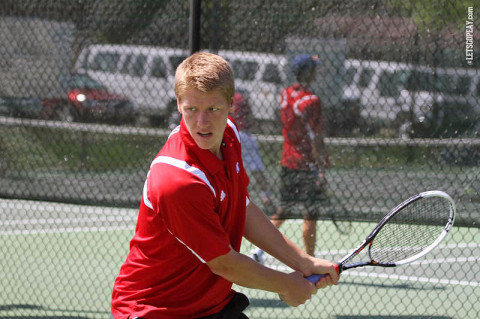 After seeing their OVC Tournament hopes end against the Colonels each of the last three seasons, the Govs finally got some revenge. Austin Peay (16-3) put those memories to rest and advanced to face fifth-seeded Belmont with the OVC Championship and an NCAA Tournament appearance on the line. Eastern Kentucky concludes its season with a 13-13 record.
The Govs jumped out early to grab the doubles point, with No. 1 pair Sean Bailey and Jasmin Ademovic and the No. 3 duo of John Storie and Alexis Tverijonas winning with matching 8-6 scores.
Austin Peay fell behind 2-1 after the first two singles matches, with a hobbled Iago Seffrin dropping his No. 6 match, 6-1, 6-1, to Florian Graskamp. Sophomore Dimitar Ristovski saw his school-record 16-match win streak come to an end at the hands of OVC Freshman of the Year Alex Alvaro, who defeated the Macedonian, 6-3, 6-4, at No. 3 singles.
Tverijonas became the first Gov to get on the board in singles play, defeating Lucas Smets, 6-3, 6-3, at No. 4 singles. Bailey came out on top in a hard-fought No. 1 match against Daridge Saidi, 6-4, 6-1, to put the Govs back out in front with two matches to play.
Storie's No. 5 victory proved to be the winner. Against Joao Maio, who won the deciding match for Eastern Kentucky against Morehead State in Friday action, Storie won a thrilling 7-6 first set that included a 13-11 tiebreaker before dismantling Maio 6-0 in the second to secure Austin Peay's spot in the OVC final.
It will be the Govs first championship match appearance since 2011, when the Govs lost to Eastern Kentucky, 4-1, in the final. Bailey and Storie both tasted victory in that match, with Bailey earning the Govs lone singles victory (a 6-4, 6-2 win against Niklas Schroeder at No. 3) and Bailey teaming with Joao Pagan for Austin Peay's only doubles win, an 8-1 thumping at No. 3 doubles.
The Govs face Belmont in the battle for the OVC title. The Bruins took a long road to the final, defeating fourth-seeded Jacksonville State, 4-1, in opening-round action and knocked off top-seeded Tennessee Tech, 4-2, in the semifinals. Former Gov Henrique Norbiato has won both his tournament matches at No. 2 singles for the Bruins.
Austin Peay defeated the Bruins, 6-1, back on April 7th. Despite losing the No. 1 doubles pairing, Austin Peay took the point and won the top four singles matches en route to a decisive victory.
The Govs and Bruins meet 2:00pm, Sunday, at the Heflin Tennis Center in the OVC Tournament Championship Match.